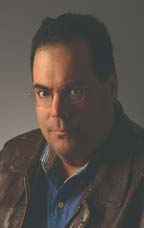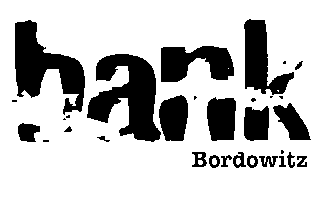 's
Dancing About Architecture
because "....writing about music is like dancing about architecture." -- William S. Burroughs. May/June 2004
To subscribe, click here
---
HI, DANCING PARTNERS
Happy Birthday Hank! Yes, on the 22nd of May, Hank became another year younger and deeper in dept (or something like that).
*****
This is another double issue, mostly because Hank fell out of the loop through the heart of the month May due to the passing of his father-in-law, Ted Pichel. Dad was a talented artist -- an Art Student League member right after WWII -- who got back into his art in a serious way after he retired from civil service. Then Parkinson's took that away from him. He passed on of pneumonia.
| | | |
| --- | --- | --- |
| | Theodore Pichel April 4, 1926 - May 11, 2004 | |
*****
Two of Hank's favorite, steadiest clients don't get nearly enough love and dancing in DAA. A letter in response to a picture in the last DAA brought that home and we want to share it with you. Hank is a contributing editor to Sheet Music Magazine, writing most of the information that appears on the tops of the songs as well as the occasional article. Beyond that, pretty nearly every month, Hank writes copy for the Good Music Catalog (www.yestermusic.com). It's fun and often challenging work. Good Music founder and Sheet Music Publisher Ed Shanaphy writes:
You losing weight...or is it my computer? I'm talking about the moderator shot. Or was that taken when you were a kid?

Best,

Ed (dancing about food and sex.)

Gotta love dancing about food and sex.
*****
Then there's Mecca, Gary, Damon, Adam, Seth, David and all the good folk at Music Choice. For close to six years now, Hank has programmed their Reggae Channel (was the World Music Channel). If you get this service, check out the Saturday Night Soca Dance Party from 8-10 EST. On Direct TV it's channel 808.
---
OUT NOW!

BRUCE SPRINGSTEEN SCRAPBOOK
As we write this, the Bruce Springsteen Scrapbook is in stores!. Arthur Maisel at Kensington went above and beyond in designing this delightful picture book with images from such noted music and celebrity photographers as Vinnie Zufante, Bob Gruen, Chuck Pulin and some less notable rock photographers like...Hank Bordowitz! Copies will go to all who helped put this volume together as soon as the box arrives.
Thanks to Cazzy, Bruce got a copy of the book when it was in PDF form. Still no news as to whether Bruce even looked at it, but we haven't heard from his lawyers, so that's a good sign.
*****

FOR IMMEDIATE RELEASE
Contact : Bordowitz Media Werx: 845.368.4882
Email: Books@bordowitz.com
www.musicwriter.biz
IT'S TIME TO TALK BRUCE SPRINGSTEEN!
The Summer of Hank Bordowitz begins with the release of The Bruce Springsteen Scrapbook
The first of four books by Hank slated to come out between May and November of 2004, The Bruce Springsteen Scrapbook offers an insightful, up to the minute biography of Bruce from his birth in Long Branch, NJ, to the end of his long-running, record-breaking The Rising Tour, featuring interviews with Bruce's confidantes from Dave Marsh to Steve Van Zandt. As a scrapbook, it includes well over 125 pictures, posters, record covers, ticket stubs and other images. This is a must have for anyone who enjoys the music and ideas of Bruce Springsteen.
Later this summer, Citadel will also put out Bordowitz's epochal Turning Points In Rock And Roll. Using 20 prominent events in the history of both the 20th Century and popular music, Bordowitz draws a detailed picture of what will come to be known as the Century of Communications. In his forward to the book, Dave Marsh notes:
Hank not only describes what happens as each of these rocks is hurled onto the surface of the placid stream that we believe is our lives but traces each of their ripples as they spread and collide with those that preceded them and those that followed. What we get to see is not only cause and effect but how difficult it is to keep the individual events separate, the way that they combine to create the meaning of one another, the way one could not have happened without the other and a third happened despite the other two…
This will follow Every Little Thing Gonna Be Alright: The Bob Marley Reader, which will do for Bob Marley what The U2 Reader: A Quarter Century of Commentary, Criticism and Reviews did for U2 – putting the remarkable artist and cultural hero into context via articles and other published material culled from a wide variety of sources ranging from Newsweek to Marvel Comics. That book comes out via Da Capo and is followed in the fall by Noise of the World: Non-Western Artists in Their Own Words from Soft Skull Press, presenting musicians from such exotic locals as South Africa, Trinidad and New York City telling the story of how they work and why they create.
Hank is also the author of Bad Moon Rising: The Unauthorized History of Creedence Clearwater Revival.
To request a book and/or set up your time to interview Hank, contact Bordowitz Media Werx 845-368-4882
-052504-
---

EVERY LITTLE THING GONNA BE ALRIGHT: THE BOB MARLEY READER
From www.bobmarley.com:
Hank Bordowitz, Editor
Every Little Thing Gonna Be Alright: The Bob Marley Reader (date of release: june 2004) Foreword by Roger Steffens
A collection of the best writings on Bob Marley, the late, legendary musician and world cultural icon who brought reggae music and Jamaican culture to a mass audience. Throughout Africa, the Caribbean, Europe, and the U.S., the image of Marley has become fraught with deeper meaning than just a musician who put spiritual and political beliefs into hypnotic, rhythmic, hard hitting songs – he has turned into a touchstone of the possibilities inherent in the developing nations of the world. Marley's tragic death, his fun, rebellious image, his faith, and more than anything, his personality and music created an enormously high profile career that has touched millions of people world wide. Every Little Thing Gonna Be Alright synthesizes all these aspects into a cohesive reading experience, and deals with him as a political, spiritual, musical, and above all, human force; this book brings together a diverse group of voices commencing with a preface by Roger Steffens and including pieces by Alice Walker, Rita Marley, former Jamaican Prime Minister Michael Manley, Lester Bangs, Robert Palmer, Vivien Goldman and more. The Bob Marley Reader incorporated pieces from publications ranging from Newsweek to High Times, from Rolling Stones to People's National Party Newspaper. Every Little Thing Gonna Be Alright: The Bob Marley Reader (352 pages) to order: http://www.dacapopress.com/order.asp
Thank Da Capo Press for sending the advance reading copy to the Bob Marley Magazine
---
BILLY JOEL
Hank finally found people who worked with Billy Joel to talk with on the record, and got some great stuff. What's surprising is all the nice things even his "enemies" (or nemesises) have to say about him. For the last 35 years, for example, Billy has been ripping into Artie Ripp, the owner of Family Productions, his first label as a solo artist. Artie, on the other hand, had this to say:
Billy has written the words and the melodies that millions of people around the world use in conversations with themselves and use as a personal communiqué to someone they care about, whether it's someone they said goodbye to, someone they're having fun with, somebody they want to become attached to.
Howard Bloom, Billy's publicist through some of his peak years, had this to say:
Because Billy really is an intellectual at heart, and part of him that says, 'if I couldn't have been a rock star, I would have been a history teacher' – he ain't kidding around. He's not kidding around at all. I would go into his dressing room after a show and tell him about the comparisons or similarities between German economic history in the 1870s and the economic conflict between Germany and England in the 1870s, and how it paralleled the conflict between Japan and America in the 1980s. Billy would listen to these stories that took a half an hour to tell with absolute fascination.
This is just a taste of the stuff Hank has been getting. He delivers the book to Watson-Guptil (Billboard's book division) in September.
---
FUEL 2000
Look for The Great American Bluegrass Collection via Fuel 2000 Records sometime this summer. Hank wrote the liner notes, from which comes this excerpt:
Rather than sticking with one era of bluegrass artists, this CD starts at the point the pebble of bluegrass plunked into the pond of popular music and follows the ripples outward through the 20th Century. As such, THE GREAT AMERICAN BLUEGRASS COLLECTION amounts to a survey of bluegrass, from the influential to the influenced – the founders, refiners, virtuosi and keepers of the faith.



---
BLOG ON
Two things:
This being an election year and all, it strikes me as interesting and a bit sad that my politics haven't really changed that much over the most recent half of my life. This thought occurred to me when I played my single from 1981, "Oil and Sand." Anyone who wants to use this for any positive purpose to sway people physically, mentally and spiritually, I'll gladly burn you a copy.
Next:
Many of my outlets for criticism have either constricted like Scarlet O'Hara's corset or just evaporated altogether. This has left me with several more commercially marginal (and therefore, sadly less interesting to many of the magazines I pitch) records to write about and no place to write about them. I couldn't find anyone willing to pay me for reviews of two of my favorite albums of the year so far, thus:
Ozomatli - Street Signs (Concord): Part of the problem with criticizing popular music is sometimes finding the common language that explains why an album is amazing in terms that everyone can understand. Saying that Street Signs is the kind of album that Robert Plant, Peter Gabriel and Santana should be making -- want to make -- demeans all four artists, but gives you a sense of what's in the pits (digits? can't say grooves anymore). Their sound fuses contemporary powerful politics and urban sounds with the many faces of 21st century salsa like the title track, "Dejame En Paz" and "Who Discovered America" to the cumin-laced middle-eastern flava of "Believe" to the "Coolie Dance" dancehall riddem of "Who's To Blame." If "Love and Hope" doesn't become an enormous hit, it just demonstrates what a strangle-hold the majors have on radio.
Tanya Stephens - Gangsta Blues (VP/Atlantic): Get ready for this: A dancehall reggae concept album told from the point of view of a liberated female. Over tracks (as opposed to riddems), Tanya Stephens wraps her surprisingly supple and subtle alto around her own songs of unfettered truth and passion -- from her premature dream date to the guy with the "lovely long ding-dong" to the guy who dumps her and she hopes "can't eat, can't sleep, can't breathe" when he thinks about what he lost. The songs range from the tough "Gansta Gal" to the tender "Little White Lie," but rarely stray from honest. A true independent in every aspect, within a single song she debunks slackness and file trading -- "Then along came brothers Napster and Aimster, and thought they're definitely wrong, I think it's worse to be forced to buy a whole bullshit album to get that one good song. Can I get an amen?" Amen.
If you want to republish any of this, all I ask is you notify me and supply some sort of ... ahem ... honorarium. I try to do this for a living, folks!
---
© 2004 Bordowitz Media Werx