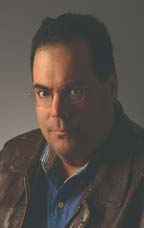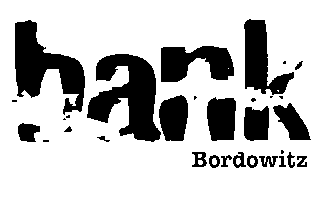 's
Dancing About Architecture
because "....writing about music is like dancing about architecture." -- William S. Burroughs. April 2004
Subscribe, click here
---
HI, DANCING PARTNERS
Many of you know Hank's fold-over white-on-black business card, which he has used in various incarnations over the last half-dozen years or so. Time, his graphic design consultant and improvements in technology dictated that he needed a change, so we're unveiling Hank's new business card, viz:
| | |
| --- | --- |
| | |
| FRONT | BACK |
Unfortunately, it didn't arrive in time for the Global Entertainment and Media Summit, which ran the first weekend of April. It would have been handy, as Hank passed out ... every single one of the business cards he brought to the event, while moderating four panels over the course of the weekend.
Hank particularly enjoyed spending time with opening night keynoter Howard Bloom. Hank had not seen or heard from him for nearly 20 years, since he closed down the Howard Bloom Organization, one of the sine qua non publicity houses back in the day. Then there was one of the last panels in the show, on artists who have their fans subscribe to their work. Surrounding Hank on this one were Dean Friedman and Jenny Bruce: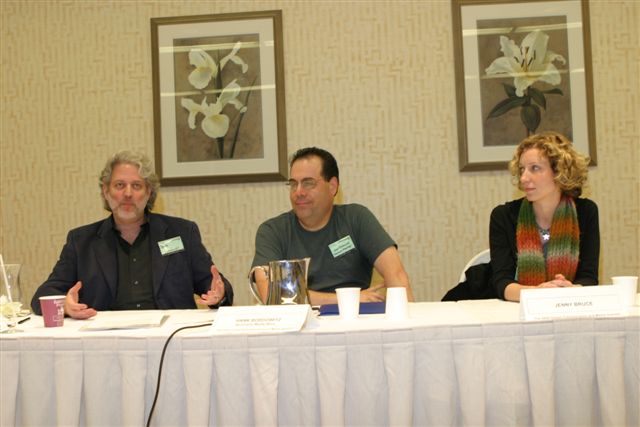 If you are in LA, Hank expects to be moderating several panels at the west coast edition of GEMS, June 12 & 13.
---
THE PARTY PLANET PROJECT
Work proceeds on a leaner, funkier Party Planet project. While some of the plans for the record fell by the wayside in a fiscal reality check (always a good thing to do), the record is still in the works.
---

TURNING POINTS OF ROCK AND ROLL
People looked at Hank kinda strangely as he was muttering "Damn, I'm good!" while going through the proofs of Turning Points of Rock and Roll. But the fact is, the last time we've seen Hank this proud of ANYTHING was when his youngest son was born, and his wife did all the work on that one.
---

EVERY LITTLE THING GONNA BE ALRIGHT: THE BOB MARLEY READER
Reviewers, take note! We have bound, uncorrected galleys of Every Little Thing Gonna Be Alright: The Bob Marley Reader. Due out in July, this gives long lead magazines a chance for a timely review. There are even a few select pieces available for reprint...
---

BRUCE SPRINGSTEEN SCRAPBOOK
The publishers at Kensington pulled a fast one on Hank! Above is the final cover of the Bruce Springsteen Scrapbook, due at a store near you late in May. As you can see, it's not the same cover as the one on the biz card. Actually, the package of cards and the package or book covers arrived the same day.
---
© 2004 Bordowitz Media Werx