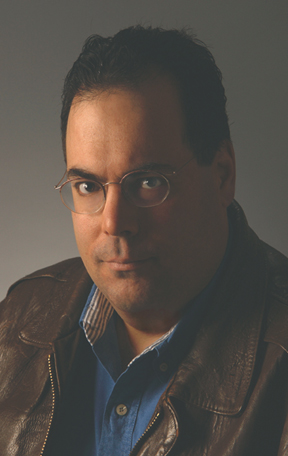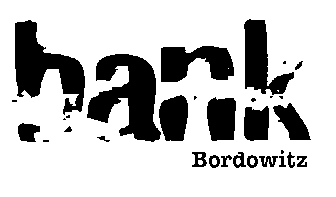 's
Dancing About Architecture
because "....writing about music is like dancing about architecture." -- William S. Burroughs. November, 2003
---
HI, DANCING PARTNERS
It's a strange thing, but lately, more is being written about Hank than Hank seems to be writing. The perils of too few periodicals. Come on, all you editorial dancing partners, throw the boy a bone.
---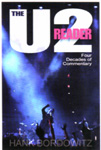 THE U2 READER OUT NOW
At better books stores everywhere. Ask for it by name!
---
STILL MORE REVIEWS

The U2 Reader
A Quarter Century of Commentary, Criticism, and Reviews
Compiled and Edited by Hank Bordowitz
(review written: Sept. 16, 2003 by Kevin D. Hendricks)
Nonfiction
303 pages
Hal Leonard Publishing
2003

You can imagine that the biggest rock band in the world has generated a lot of press, and not all of it good. The U2 Reader offers a sampling of that media frenzy, covering some of the biggest issues in U2's quarter century career.
The articles range from their very first mention in a suburban Dublin newspaper to Time, Spin, and Rolling Stone features. Everything is fair game, from the band's political and spiritual gesturing, to being on the road, to the opinions of their peers, and even the shrewd business dealings that have made U2 rich.
The U2 snapshot is certainly from the media's perspective, always fishing for the fairy tale story (the roots story of a notice posted on a school bulletin board is repeated ad nauseam) or soundly bashing then praising the band (see Rattle & Hum vs. Achtung Baby or Pop vs. All That You Can't Leave Behind). The thematic grouping of the articles, rather than chronological, seems to leave gaps in the band's history. The media extravaganza of the ZooTV tour is more of a footnote than a milestone. But despite these drawbacks, there is an inside view of the band, ranging from their admitted lack of musicianship in the early days to Bono's struggle with stardom and egomania
---

Review: The U2 Reader - A Quarter Century of Commentary, Criticism, and Reviews
October 25, 2003

The U2 Reader - A Quarter Century of Commentary, Criticism, and Reviews
By Hank Bordowitz (Editor)
Hal Leonard Publishing


From the day in late 1980 when a 20-year-old Bono Vox announced to Rolling Stone magazine that U2 was "meant to be one of the great groups" and compared his fledgling band to the Rolling Stones, the Who, and the Beatles, U2 has invited its share of media scrutiny. And, as Bono's prediction blossomed into truth over the 20-plus years that followed, U2 got what Bono was asking for.

Sometimes glorified and sometimes vilified, U2 has had an often uneasy relationship with the press since Bono's brassy proclamation:
they were uncomfortable when labeled a "Christian" band by many in the media during the band's early days
they were caught off-guard by blistering criticism from U.S. media after the Rattle and Hum project, and U2 responded by skipping North America altogether on the Lovetown Tour of 1989-90
they were irritated by the press' -- and the public's -- tepid response to the Pop album and PopMart Tour, with manager Paul McGuinness labeling one critical newspaper article "crap"

With that in mind, it's safe to assume U2 wouldn't be comfortable with the idea of allowing the press to tell the story of the band's 25-year history. But that's exactly what Hank Bordowitz has done -- and done well -- in The U2 Reader - A Quarter Century of Commentary, Criticism, and Reviews, a book of press articles and clippings that's very satisfying thanks to a level approach to how the band is portrayed, warts and all.

It would've been easy for Bordowitz to use articles which illustrate the most common public perceptions of U2 at various stages of the band's career -- U2 as naive boys in the early '80s, U2 as heroes in the late '80s, U2 returning to their roots in the past few years. But the article selection is more judicious and deliberate than that, particularly in the "On the Record" chapter which measures U2's album output by media reviews. While we may think of Boy as U2's critically-acclaimed debut (which it largely was), The U2 Reader presents two reviews -- one restrained in its praise, the other restrained in its scorn -- that paint a more accurate picture of Boy's assets and liabilities. Achtung Baby, another album that earned widespread critical praise, is also presented in both pro and con. A review from the Hartford Courant calls it a "bracing, exciting change of pace," while the next from a Stereo Review writer turns the tables by suggesting that "while some might laud it's daring, I say that it's simply not very good."

Some of the all-time great articles are in here, including Bono's interview with George magazine in 2000; the band's cover story from Time magazine in 1987; a Spin article by Ann Powers from 1997, and a 1987 Musician magazine interview with the whole band that reads like a boxing match, with writer John Hutchinson posing challenging questions that few journalists were asking at the time. (The opening question, in essence, asks for a response to criticism that U2 plays music "for white middle-class audiences in America, and is ineffectual as a force for change"!) And pieces written by musicians such as Moby, Billy Corgan, and Bruce Hornsby are an additional treat.

On the flip side, some of the all-time blasts at U2 are included, as well. In a Village Voice review of Rattle and Hum, Tom Carson writes "The record's an embarrassment...yet neither the band nor its fans will be aware of any reason to act embarrassed." Bordowitz also includes a Dave Marsh article from the Nation, "U2's Crash: Why Pop Flops," which takes aim at U2 for, in Marsh's opinion, putting corporate decision-making ahead of creative flair. "The tour's most noteworthy emblem," Marsh writes, "is a gigantic stage prop in the shape of a lemon, and that could not be more perfect." It's one side of a long-running debate among U2 fans, but it's a valuable addition to The U2 Reader.

There are flaws in this collection -- flaws of omission rather than commission. The book is missing articles from sources such as Rolling Stone, NME, and Hot Press because, as Bordowitz told @U2 in an interview earlier this year, "they have their own books." True, but it leaves the book lacking the unique Irish perspective that Hot Press brings, and at least one brilliant article from Rolling Stone, a 1985 article titled "Keeping the Faith" from the issue that declared U2 the "Band of the '80s." From a historical perspective, one omission stands out: there are no articles pulled from Irish sources that address Bono's "...we're going to go away and dream it all up again" speech, and the furor it caused. A moment like that needs to be included in any summation of U2's past because of what it meant for U2's future.

What is included, though, is often fascinating, and brings new facts to light about the band we know so well. A 1983 Trouser Press piece mentions Larry traveling with his own acoustic guitar because "he's started writing songs." An article from Seventeen magazine in 1985 reveals that Adam's last job before joining U2 was "driving a van, delivering china." And did you know that Larry's plans for after the Joshua Tree tour included recording a country album, and he talked to Maria McKee about helping out? That nugget is part of the 1987 Musician magazine interview mentioned earlier.

Bordowitz avoids a chronological presentation, instead presenting the book's roughly 70 articles in twelve themed chapters. And in those chapters, The U2 Reader paints an accurate and balanced portrait of the band, one that deserves a spot on any U2 fan's bookshelf.


---

Books : The U2 Reader: A Quarter Century of Commentary, Criticism, and Reviews

Multi-Faceted
Hank Bordowitz follows up on The Creedence Clearwater Revival saga, Bad Moon Rising, with an excellent account on U2(The U2 Reader: A Quarter Century if Commentary, Criticism, and Reviews). What makes this book a winner, is the many perspectives and in depth research that Bordowitz provides. The songs and performances are analyzed from religious, political, and musical perspectives. Its great that Bordowitz gets quotes from musical luminaries like Bruce Springsteen, Sinead O'Connor, and Billy Coorgan.

Some moments are spent looking into the personal sides of each band member and how their personalities caused the band to evolve over time. The Unforgettable Fire certainly differs greatly from Pop as the band has evolved from a radical new wave band to one that seems to have their influence blend into the world today. Big time fans should pick this book up and even minor fans like myself will find that there is much merit in Bordowitz's fine research.


---
Rattle & History
Of the many U2 books on the market, with more to come, it is refreshing to get a sense of historical perspective of the world's most popular, if not relevant, band.

U2 was not always the most beloved band, especially after its forays into electronica. Even during the early days there were some doubts, hard to believe now, of the band's durability. The book is worth the price alone for reading Jon Pareles's early review of U2 from The New York Times. In 1981 he actually wished the band would break up!

This book scans the thoughts and musings of a wide variety of authors from the band's earliest days to the present. One of the convenient pluses of the book is that, as a compilation, it can be read in bursts or it can be read just sitting down for an afternoon on the beach. Each article short enough to look up to see if the kids are alright and yet engaging enough to say to your wife, "yes dear."

Few books today really put U2 into this proper context of where they stand in the eyes of the critics. It will appeal to the long time fan still able to recall those early days at the clubs and theaters and also to the newer fan wondering what it was like when they were just starting out but still able to be familiar with the band that is today.

Overall, a timely and needed effort, especially as U2 writes their new album and takes a pause from the last phase of their career. It is also a fun read. Who said history isn't fun?


---
COMING DISTRACTIONS
BILLY JOEL
Hank just signed a contract to do a book on Billy Joel. While barely out of the gate on the project, Hank has done two truly revealing interviews on the new subject: One with ASCAP Chief of Staff Bill Thomas and another with Billy's first publicist Sandy Gibson. As these things get processed for use, count on a tasty tidbit or two to appear in this space.
NOISE OF THE WORLD
This labor of love is in the works and should ready for the publisher by the end of the year. It features over 60 artist from various non-western musical genres and locations talking about making their music and dealing with their culture on a broader, global scale. It's due out in the fall of 2004.
TURNING POINTS OF ROCK AND ROLL: FROM ARC TO MP3
Recently turned in to the publisher, this may be the best thing Hank has ever written! It covers 20 Turning Points of Rock and Roll ranging from Edison inventing the means to disseminate music without an actual musician being present (think about it -- before the phonograph, in order to hear music, you need both musician and instrument; after, all you needed was a phonograph) to the MP3 and the means of transferring music without even a physical product. In between, Elvis, Chuck Berry, The Beatles, Dylan, The Sex Pistols, Les Paul and Dick Clark all get theirs. Hank says he's looking forward to fistfights over this one all through the fall and winter of 2004.
EVERY LITTLE THING GONNA BE ALRIGHT: THE BOB MARLEY READER
Another collection of articles, this time on reggae great Bob Marley. So far the book is going to feature writers ranging from Alice Walker to Lester Bangs. Should be a good one. This is due out in the spring of 2004.
THE BRUCE SPRINGSTEEN SCRAPBOOK
Hopefully, we'll have galleys on this one soon. An up-to-date Bruce Springsteen bio featuring over 120 images from throughout his illustrious career.
---
© 2003 Bordowitz Media Werx