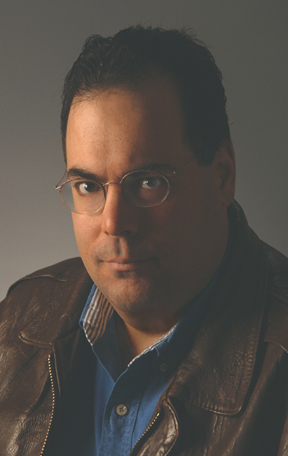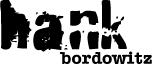 's
Dancing About Architecture
because "....writing about music is like dancing about architucture." -- William S. Burroughs. May 2003
HANK TURNS IN THE BRUCE SPRINGTSTEEN SCRAPBOOK
Book to Come out via Citadel Press,
Spring 2004

THE U2 READER OUT JUNE 7

Book Signing At Tower Records, 809 Rt 17 South, Paramus, NJ, between Linwood & Ridgewood Avenues.

Music Choice Expands the Reggae Channel

For those of you with addressable cable and satellite boxes, the Reggae Channel (#26) on the Music Choice service has recently expanded back into more of a world-beat service with the addition of My Music Choice. In addition to the "regular" programming, there are now sub-channels of Caribbean music, African music, Soca, Dancehall, Ska and Rocksteady. What does this have to do with Hank, you ask. Hank programs the Reggae Channel, and has for quite a few years.

Hank continues to teach in the Music Business Certificate program at Baruch College. They recently put out this press release about The U2 Reader

Baruch Music Biz Instructor Authors U2 Bio

When Hank Bordowitz saw U2 play in New York City in 1979, he knew he was seeing a band with potential to go far in the industry. Over two decades later, Bordowitz, an entertainment business instructor at Baruch College Continuing and Professional Studies (CAPS), hasn't swayed his opinion of the group, and he's put together a book about them, which is due out in June.

"The U2 Reader: A Quarter Century of Commentary, Criticism and Reviews" is a 320-page collection of writings by various authors and journalists. The book covers the entire band's history, from their days as a Dublin garage band to playing in front of one of the largest audiences in the world at the 2002 Super Bowl.

It includes writings by music critics Dave Marsh and Ann Powers, Smashing Pumpkin's frontman Billy Corgan and even controversial writer Salman Rushdie. Articles are taken from publications like "Spin," "The New York Times," "The Onion," "The Trouser Press" and many more.

``U2 has been one of my favorite bands. When I first saw them at the Academy of Music back in 1979, there was just nothing else like it. There still isn't. I felt like someone who saw The Who at the Hammersmith in 1965," said Bordowitz.

"U2 is the last rock band that matters. I suspect U2 will be the last superstar rock band, because the whole music business is about to downsize," Bordowitz said. As a result, he explained, more and more artists are recording CDs without the help and cost of major record labels and therefore don't need to sell as many CDs to make a lot of money. These artists may keep a low profile, but have enough loyal followers who buy their CDs and attend their shows to keep them successful financially.

The book includes reviews - both good and bad - of albums and shows, as well as feature articles on some little-known or forgotten stories. One recounts the time just before the group recorded the 1981 album "October," Bono lost his laptop containing the lyrics. He had to improvise the lyrics inside the studio. The book also delves into Bono's activist life and his relationship with conservative politicians like Jesse Helms. "He and Jesse Helms read the Bible together," Bordowitz said. "He has a whatever-it-takes attitude."

The book, published by Hal Leonard Books, will hit bookstands on June 7 for $17.95. Readers can pre-order a copy by logging onto www.Amazon.com or www.BarnesandNoble.com.

Bordowitz has been in the music business for a quarter of a century. He has worked in radio, publicity, production and retail. He is currently an instructor in Baruch CAPS' Entertainment Business program where he teaches Introduction to the Music Business and Entertainment Journalism. He is the former director of editorial content for MYC.com, a Website specializing in music downloads and streaming concerts for artists like Paul McCartney, The Backstreet Boys and Pete Townsend. He published his first book "Bad Moon Rising: The Unauthorized History of Credence Clearwater Revival" in 1998. He also wrote an extensive introduction to "The Peanuts Illustrated Songbook" about jazz pianist Vince Guaraldi. He recently finished his next book about Bruce Springsteen, which is due out in June of 2004. For more information, log onto

www.bordowitz.com.

Baruch College Continuing and Professional Studies is a leading New York City provider of quality professional training advancing students' career, studies and life. The Entertainment Business Program offers internships and affordable music, film and special-event evening courses taught by leading industry professionals. Courses include Introduction to the Music Business, Special Events Production, Screenwriting, Music Journalism, Producing Films, Radio Programming & Promotion, Entertainment Law, Music Publishing, Entertainment Media Relations, Entertainment Marketing and Events Planning and Promotion. Baruch CAPS is committed to offering a comprehensive selection of quality courses and programs ensuring that all students receive the training and resources to effectively advance their career.

All of Baruch CAPS' courses are kept small and taught by leading industry professionals who offer real-world knowledge of the skills and education sought by employers. State-of-the-art technology, experts in career and academic advising, and experienced faculty promote the advancement of all students with the proper resources for meeting their goals. For more information about Baruch CAPS, call (212) 802-5600 or log onto

http://caps.baruch.cuny.edu/.
Blog-on
THE WORLD MUSIC MARKETPLACE
Some artists put their money where their passion was to see just how far their fans would follow. In 1982, former Genesis frontman and successful solo singer Peter Gabriel put up about $7000 to put on a festival of global music and art. His experiment paid off handsomely as 15,000 curious people made their way to Somerset, England, despite a rail strike. Now, Gabriel's World of Music Art and Dance (WOMAD) presents over 100 events a year. It has brought artists like Senegalese super star Youssou Ndour and expatriate Moroccan Gnawa great Hassan Hakmoun to western attention. As it's director notes, "Even a decade ago, world music was perceived by the general public as the domain of hippies and weirdoes. It's now part of people's musical perspective."
As that happened, recordings from far off and exotic places became far more commonplace. No longer were Nonesuch Explorer albums of field recordings by ethnomusicologists like David Lewiston and Alan Lomax the sole source of information about music outside the purview of pop. In the emerging global village of fast communication and transportation, multinational companies maximizing their profits by distribution and licensing records as aggressively as possible coupled with a general malaise in western music, the sounds emanating from non-western countries became a panacea, a remedy for eardrum doldrums.
The artists experienced this as well. Nothing happens in a vacuum, and the burgeoning worldwide communications reached out to the music's creators as well. As New York Times music critic Jon Parales notes, "Isolated music is increasingly rare. Instead, many world music albums document local responses to a universe of possibilities."
This growth is grassroots and populist. In the UK, certain world music concerts outsell concerts by Elton John according to the London Times.
In the wake of this surge in awareness and creativity, Chris Morris of Billboard observed, "Since the early 80s…the American hunger for world sounds has grown exponentially."
Indeed, the demand for this music has grown enormously. At its most basic market level, this can be seen in the growth of the music at retail. "We went from two rows of vinyl," notes the general manager of Rhino Records retail outlet in Los Angeles, "to five or six bins of world music."
Carol Cooper of the Village Voice observed that, "Today the world music sections in big chain stores like Tower, HMV and Virgin can extend over an entire floor."
Jacob Edgar, director of A&R for Putamayo World Music, agrees with these assessments. "The genre," he says, "has grown considerably in stores over the last few years, and as people are becoming more open to music from around the world, more is becoming available. The Internet is expanding this accessibility. You can go online and list to radio stations from Tunisia or Thailand. You can hear broadcasts from everywhere."
Dan Storper, Putamayo's owner, points to the phenomenal growth of world music as illustrated by his bottom line. "Our total sales the first year (1993) were small, about $350,000," he says. "[Five years later]. Our sales were $6.7 million. When I first started, if there was an album that sold 50,000 copies, it was considered kind of a world music hit. Now you're seeing a batch of titles selling over 100,000 copies."
Not only that, but the people who buy this music represent a prime reading and book buying demographic. As WXPN program director Bruce Warren observed, "This is music that appeals to 35-year-old, upper-demo, educated, high-income."
Gail McIntosh, direct marketing manager for Rounder Records, a major purveyor of world music, corroborates this. "We've seen this audience as an upper demographic."
Carol Cooper of the Village Voice observed, "A new and more sophisticated American consumer has evolved over the past 20 years…This consumer is not only curious about parallel pop cultures in different nations; he is dedicated enough to seek out all the magazines, Web sites and online retail outlets that have arisen to support this enthusiasm."
Needless to say the market for non-western music continues