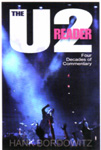 THE U2 READER OUT JUNE 7
Confirmed Book Signings:

July 10, 2003
Philadelphia
Barnes & Noble
1805 Walnut St
Philadelphia, PA
7:00 PM

July13 2003
West Nyack, NY
Barnes & Noble Booksellers
Palisades
4416 Palisades Center Drive
West Nyack, NY 10994
7:00 PM

July 19, 2003
Ridgewood, NJ
Bookends
232 E. Ridgewood Avenue
3:00 PM


Sneak Peeks Supplemented by Secrets
| | |
| --- | --- |
| Sunday, June 1, 2003 | |
Twenty-three years ago, Hank Bordowitz, a Rutgers student from Ridgewood, first crossed paths with U2.
"I saw them in 1980 at the Palladium," Bordowitz recalls. "I walked out of there feeling the way people in 1965 must have felt when they walked out of the Hammersmith Odeon after seeing The Who. It was like nothing I'd ever heard before. They made astounding amounts of music, and they were so damn young. They were younger than me, and I was a kid."
Now, Bordowitz and U2 have crossed paths again. He's edited "The U2 Reader: 25 Years of Commentary, Criticism, and Reviews," and he'll be signing copies of the book from 2 to 4 p.m. Saturday at Tower Records, Route 17 south, Paramus.
"Staying significant for 20 years is no small feat," says Bordowitz who has written for The Village Voice, High Fidelity, Spin, and Musician, and is the author of "Bad Moon Rising: The Unauthorized Biography of Creedence Clearwater Revival."
Between U2's benchmark songs like "Sunday Bloody Sunday," and the political involvement of lead singer Bono on topics ranging from nuclear disarmament to the health crisis in Africa, the band has been grabbing headlines from the time U2 first made it big.
"The fact is, they've been able to live up to their potential," Bordowitz says. "They've been able to reinvent themselves, and push the envelope a little every time they come out."
The collection reprints pieces from the likes of musicians such as Moby and Billy Corgan, authors like Salman Rushdie, critics like New York Times music writer John Pareles, and even conservative pundit Andrew Sullivan.
"That kind of speaks for their universality, doesn't it?" Bordowitz says.
Jim Beckerman's e-mail address is beckerman@northjersey.com.
Coming Attractions
Hank is currently at work on two more books:
The first, for Citadel, has the working title Turning Points in Rock and Roll. A compendium of key events in the history of rock, this is the book Hank has trained his entire life to write, so it should be a good 'un.
The second is just as exciting, a labor of love for Hank, called Noise of the World: Nonwestern Musicians in Their Own Words, which will be published by Soft Skull Press. An oral transcript of an oral culture, this book presents over five dozen artists making "worldbeat" music, along with several avatars of non-western music to present a picture, not of a sound less than civilized, but rather contemporary, sophisticated players straddling traditional and contemporary cultures.
We Get ... Letters
The following is a slightly edited email about The U2 Reader, A Quarter Century of Commentary, Criticism and Reviews (the name has been altered) and my slightly edited response.
Subject: U2 Reader
Hi there,

My name is Chris and I'm a big fan of U2 and I recently visited your website after seeing your new book on Amazon.com and I had some questions for you:

What, in your opinion makes U2 so great: How have they been able to remain so incredibly popular with a socially/politically conscious platform with introspective, thought provoking messages in an industry which thrives (and to a lesser or greater extent prides itself) on superficial lyrics and decadent behavior/living?

I recently composed a research paper briefly analyzing U2's Pop album and Pop-Mart Tour for a popular and material culture class. What overall theme/message do you feel U2 were attempting to convey to their audience with both the album and the tour?

Do you feel Pop and Pop-Mart were failures, why or why not? I personally felt they were not failures (but I tend to view u2's work for its artistic merit and messages and not from a financial standpoint.)

In an article posted on atu2.com, you alluded to u2 being "the last of the great bands". Do you feel there are any up and coming bands that can match the intellectual/artistic scope and depth that u2 done thus far?

Thanks for taking the time to answer my questions
PS Wizard: The Guide to Comics is a great publication keep up the good work!

Chris,
I think you answered the first question yourself, at least partly. They prove that good "content" will sell. But there's more going on.
They have excellent management. Paul McGuinness is a genius at hearing what the group wants and making it happen to their best advantage.
They came up in a time when companies were willing to develop artists. If U2 were to "break" today, no company (save an indie) would have kept them on after the modest initial sales of Boy and October. So, in that sense, they were the right band at the right time.
They also are artists in the finest sense of the word. They challenge themselves and their audiences and they do the latter without being off-putting. That challenge is both musical and lyrical. Because of this mentality, they are in a constant state of growth. U2 is a band that never coasts.
Pop and the Pop-Mart tour were basic swipes at consumerism over spirituality, and frankly, I found it a bit heavy-handed. Even Bono admits that the live show was somewhat over the top, and -- while they probably didn't know it, as they are not from the US -- holding their tour announcing press conference at Wal-Mart could be perceived as being a very bad move as the chain has a reputation for union-busting and record-censoring (c.f. Dave Marsh).
In terms of U2 being the last of the great rock bands, that is John Swenson's contention in the books introduction, but I agree.As I stated before, a band that does what U2 did in 1980 are not going to get the kind of exposure that U2 does now or even did then. The days of the superstar rock bands are dwindling for a whole passel of reasons that are WAY too extensive to go into here (I could -- and maybe will -- write a book). Suffice to say, there are a lot of artists making interesting music these days, but you'll have to dig deep to find them.
I hope this answers your questions. Thanks for taking the time to write.
Oh, and as to Wizard, sadly, I no longer work there, but I agree that it was and still is a fantastic magazine (and probably hasn't lost anything for my absence). Interestingly, there is a parallel: Wizard is run by a bunch of people who are single-mindedly committed to what they do, do it with expertise, take chances and have a lot of fun doing it. They are as responsible for the growth of panel graphic artistry as any of the companies that put it out. Pat McCallum, now the group editor, is maniacally brilliant, and I very much enjoyed working with them.
And then there's this one:
----- Original Message -----
From: "Sam"
Sent: Sunday, June 08, 2003 11:45 PM
Subject: Fellow U2 Publisher
Hi Hank,

I am in the process of putting together a book on U2, and it's proving quite
a challenge, mainly because I am not a trained writer and have not had
anything published before.

I'm not sure if you see me as a friend or foe, seeing that one day my book
may be in bookstores alongside yours, but if you could give me some advise
on overcoming some obstacles I've encountered and will encounter in the
future, it would be much appreciated.

I have written to magazines such as Rolling Stone, Spin, Q, Select and many
others to get permission to reproduce their magazine cover stories on U2,
and none have responded. Who exactly do you have to approach to get written
permission to reproduce their copyrighted material, and do they charge a fee
or simply request acknowledgment in the book.

Also, I want to include quite a few magazine covers featuring U2, and
realize that I probably need permission to do this as well otherwise I would
be infringing copyright. What if a particular magazine is no longer
published. Do you still have to get permission from the former publisher to
reproduce it.

I've also hit a brick wall as far as finding a publisher goes. I've emailed
Carlton Books, seeing they publish many music books, but these publishers
don't seem to pay much attention to unsolicited material. Should I find
myself a book agent?

I too am a passionate U2 fan since 1981, I've seen them live 5 times, both
here in Sydney, Australia and Montreal, Canada and have been a collector
mainly of magazine covers since the early 80s. At last count I had over 400
magazines from all around the world with them on the cover.

One advantage I do have is that I am a graphic designer with over 10 years
experience, so designing and putting together the book is something I want
to do myself. Actually, I have already started by laying out all the
different chapters, and after having worked on it for over a year, the book
is well advanced.

Anyway, if you could spare some of your time to respond, I'm sure that your
advise as someone who has had a book or two published would be invaluable.

Thanks very much...

Regards
Sam
Sam,
I don't see you as a foe, because I haven't even sold the Antipodean rights to the book.
But, man, have you got a job ahead of you!
You must secure rights to everything. At most bigger publications there is a person (or department) that takes care of this. It becomes easier when you can do it on a publisher's stationery.
Most book publishers don't even look at unagented solicitations, at least not in America. You should find yourself an agent.
What you are undertaking can be a pretty expensive project. On another project I spent well over $3000 on photos alone, and that was only because I have a 20 year relationship with a photo agent, both as an editor and a photographer. Also, Rolling Stone (at least RS US) has already done a book on U2, so rights might be even harder to come by.
I wish you all the luck in the world putting your project together, and hope I've been helpful and not too discouraging.
HB