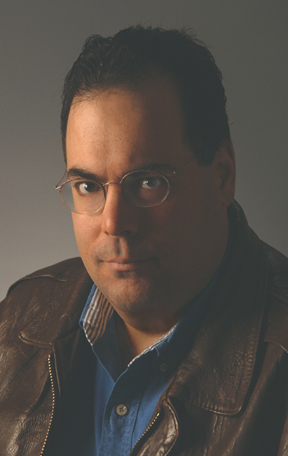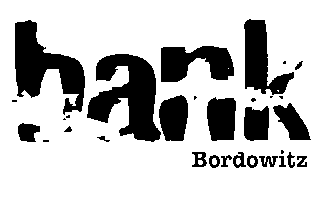 's
Dancing About Architecture
because "....writing about music is like dancing about architecture." -- William S. Burroughs. December, 2003
---
HI, DANCING PARTNERS
Department of Personal Victories: For those of you who haven't seen Hank in the last year, he's shed some 10% of his weight, mostly by running. Starting at a mile three times a week, he's worked his way up to running between 20 and thirty miles a week. On Novermber 15, he decided to run his first 5K race, finishing smack in the middle of the field but running the time he had in mind: Under 28 minutes, a personal best for that distance.

---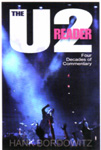 THE U2 READER OUT NOW
GOT ANGST?
Hank just made a deal to sell autographed copies of the U2 reader via the amazing, iconoclasic web store teenangst.com. Here's how the ad appears on the site. Thanks, Riff!
!!ANOTHER TEENANGST.COM EXCLUSIVE!!

STUCK ON WHAT TO GET THE U2 FAN IN THE FAMILY? (THERE'S ONE IN EVERY FAMILY, WE KNOW..)

PERSONALLY SIGNED COPIES OF "THE U2 READER" BY AUTHOR HANK BORDOWITZ.
AS FEATURED ON U2.COM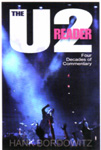 A MUST FOR ANY LUNATIC DIE HARD U2 FAN.
LIKE YOU KNOW YOUR CRAZY UNCLE FROM IDAHO WHO PUTS ON AN
BAD IRISH ACCENT WHEN HE STARTS TALKING ABOUT HOW "IMPORTANT"
THEY ARE AND STUFF? AND THEN YOU'RE LIKE "OK UNCLE BOB, YOU'RE
SCARING THE CRAP OUT OF ME, SO I'M GONNA GO CHECK
ON HOW AUNT WHATEVER IS DOING.." AND THEN YOU
RUN OUT OF THE ROOM? HE'LL DIG THIS.
---
THE HITS KEEP COMING
--The U2 Reader: A Quarter Century Of Commentary, Criticism and Reviews.
Written By: Hank Bordowitz Published By: Hal Leonard Corporation
--This superb 320-page collection of writings by various authors and journalists (including Dave Marsh, Salman Rushdie, Billy Corgan, with an introduction by John Swenson). U2 began as a Dublin garage band to playing in front of one of the largest audiences in the world at the 2002 Super Bowl. Bordowitz said, "U2 is the last rock band that matters. I suspect U2 will be the last superstar rock band, because the whole music business is about to downsize." These Irish rockers were influenced by punk's raw energy, but they immediately distinguished themselves from their post punk peers with a huge, soaring sound--centered on "the Edge's" reverb-laden guitar playing, and "Bono's" sensuous vocals.
--John Shelton Ivany, The John Shelton Ivany's Top 21
---
FUEL 2000
Look for a new collection by the late great Round Mound of Sound, Al "Jumbo" Hirt via Fuel 2000 Records sometime this winter. Hank wrote the liner notes.

---
EVERY LITTLE THING GONNA BE ALRIGHT: THE BOB MARLEY READER
It's all over but the shooting. The month of December is going to be spent acquiring rights to the articles Hank has chosen for Turning Points of Rock and Roll. Possessing the subtle negotiating skills of a flying mallet, it should be an interesting experience.
---
DA CAPO DE TUTTI FRUTTI
In the mean time, these are the pages on the book from the Da Capo catalog. Several of the writers listed (Rockwell, for instance) actually didn't make the first cut. They might still be in the book if we can't get permission for the pieces we want, but we'll wait to see on that one.
---
NOISE OF THE WORLD
Time not spent acquiring rights for the Marley Reader is going to be spent putting the finishing touches on this book. Both go to their respective editors at Da Capo and Soft Skull press right after the holiday season draws to a close. Looks like Hank will be working through Christmas again.
---
BILLY JOEL
With a couple of interviews already in the can, a bunch of research already in the files and a backlog of potential interview subjects, Hank is looking forward to really digging into this one in ernest starting first of the year. By all accounts, this will be the first serious biography of Billy Joel. Look for it in the Spring of 2005.
---
THE BRUCE SPRINGSTEEN SCRAPBOOK
From the Kensington/Citadel Spring/Fall 2004 Catalog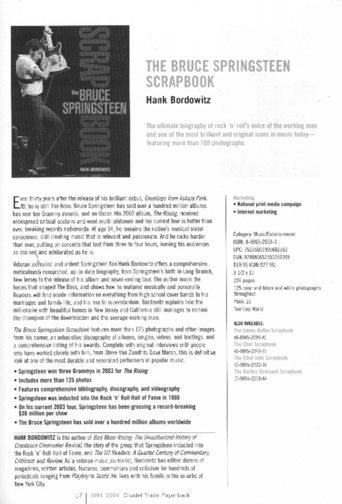 ---
TURNING POINTS OF ROCK AND ROLL: FROM ARC TO MP3
From the same catlog as above, a little later on, we find...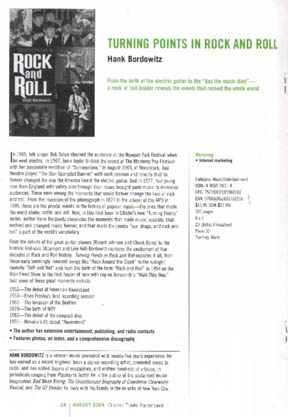 ---
THE NEWS FROM BIZARRO WORLD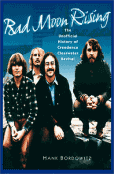 Imagine Hank's surprise when, during a brief stop at Amazon.com, he found first editions of Bad Moon Rising selling for $45. This for a book that's still in print -- Going into a third printing (maybe this time they'll get the cover right!). Very odd.
---
HANK WISHES ALL HIS DANCING PARTNERS A STUNNING WINTER SOLSTICE FESTIVAL!
---
© 2003 Bordowitz Media Werx