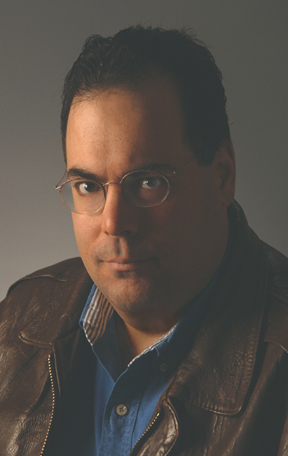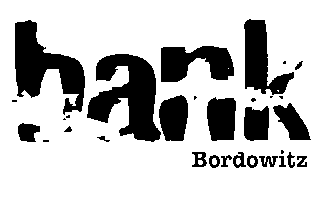 's
Dancing About Architecture
because "....writing about music is like dancing about architecture." -- William S. Burroughs. August/September, 2003
---
HI, DANCING PARTNERS
Two things.
As you'll read, it's been a pretty busy summer, so we're combining the August and September issue of DAA.
Onto the title: We've been asked to find the exact source of our title. A cursory search has turned up a bunch of people who are credited with coining the saying, including Frank Zappa, Laurie Anderson and Elvis Costello. We're still apt to believe it's William S. Burroughs. However, if anyone can find the exact source of this quote, we'd love to see it.
---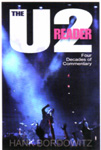 THE U2 READER OUT NOW
Confirmed Book Signings:

October 20, 2003, 7:00 PM
Suffern Free Public Library
210 Lafayette Ave (Rt 59), Suffern, NY 10901

---
EXTRA! READ ALL ABOUT IT! PT. 1
The U2 Reader was reviewed in the September issue of Maxim's Blender. They gave it Three Stars.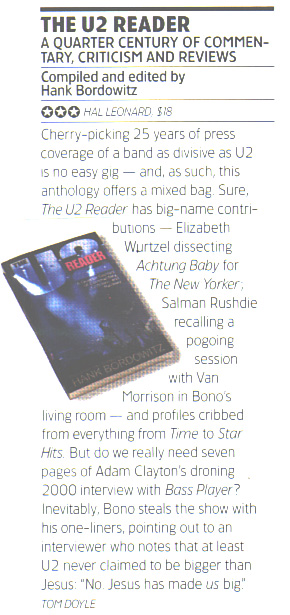 ---
EXTRA! READ ALL ABOUT IT! PT. 2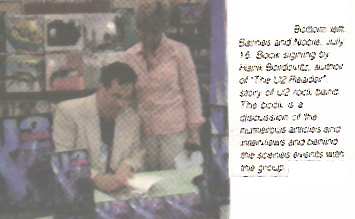 Hank's signing on July 16th at the Palisades Center Barnes and Nobel made the papers! No, there wasn't a riot there or anything, just a local author making good in the Rockland Review. Here's a copy of the picture. We'd like to thank all our friends who showed up, like Joel, Tom and Melissa to mention a few. The discussion was lively and many books were signed.
---
GOOD MORNING TERRE HAUTE
The morning of July 22, the greater Terra Haut, Indiana, metropolitan area got to drive to work to the dulcet tones of Hank's voice. Hank was interviewed by WMGI On-Air Personality Tara Sommers and her morning crew. You can listen to the interview here.
---
GOOD MORNING WISCONSIN
Seems only fair, since publisher Hal Leonard Books is in Milwaukee, that they would take an interest in the Reader. So, Hank spent over 15 minutes on the air with WRCO morning man Phil Nee. You can hear that interview here.
---
THE U2 READER @ THE CELEBRITY CAFE
The people at the Celebrity Cafe gave The U2 Reader a rating of 8 out of 10, saying: "U2 fans, along with people interested in the band's cultural impact, will want to read this book."
To read the whole review, click here.
---
AMAZON.COM READER REVIEW
Rattle & History, July 10, 2003

| | |
| --- | --- |
| | Reviewer: Jim Freeman from Newton, MA |
Of the many U2 books on the market, with more to come, it is refreshing to get a sense of historical perspective of the world's most popular, if not relevant, band.
U2 was not always the most beloved band, especially after its forays into electronica. Even during the early days there were some doubts, hard to believe now, of the band's durability. The book is worth the price alone for reading Jon Pareles's early review of U2 from The New York Times. In 1981 he actually wished the band would break up!
This book scans the thoughts and musings of a wide variety of authors from the band's earliest days to the present. One of the convenient pluses of the book is that, as a compilation, it can be read in bursts or it can be read just sitting down for an afternoon on the beach. Each article short enough to look up to see if the kids are alright and yet engaging enough to say to your wife, "yes dear."
Few books today really put U2 into this proper context of where they stand in the eyes of the critics. It will appeal to the long time fan still able to recall those early days at the clubs and theaters and also to the newer fan wondering what it was like when they were just starting out but still able to be familiar with the band that is today.
Overall, a timely and needed effort, especially as U2 writes their new album and takes a pause from the last phase of their career. It is also a fun read. Who said history isn't fun?
Thanks, Jim!
---
@U2.COM

Green Eggs and Hank
@U2, August 23, 2003

Hank Bordowitz has thought long and hard about this question: "If U2 were a book, which book would they be?"

Blame Creedence Clearwater Revival. Bordowitz, the man behind The U2 Reader: A Quarter Century of Commentary, Criticism and Reviews, also gave the world Bad Moon Rising: The Unauthorized History of Creedence Clearwater Revival. As he was working on the latter, a fellow music journalist told him such a book could become "the rock and roll version of Bleak House."

So if John Fogerty and Co.'s dealings conjure comparisons to a Dickens novel (one about a lawsuit that drags on until everyone associated with it is dead), what work of literature does U2 call to mind, Hank?

"The Fountainhead. It has to do with success by sheer force of will."

A collective will to succeed does bleed through the 300 pages of The U2 Reader. Something had to take the band from winning a trophy in Limerick to performing at the Super Bowl. Still, sheer ambition only explains a portion of the band's Story So Far. Anyone attempting to compile a good retrospective needs to give fair, representative time to all the key themes of the past twenty-five years. No, more than that -- he needs to give all themes equal time and to present them in some coherent fashion and to be entertaining, not just erudite and not to run on too long.

"Understand this book has been cut and re-cut and restructured quite a bit," Bordowitz says. One major rehaul came near the end of the nine months he spent bringing it into the world. His publishing company (Hal Leonard, the sheet music people) told him one Friday he needed to chop out 100 pages by that Monday. Unfortunately Bordowitz was camping that weekend. Fortunately he had a Palm Pilot. He loaded the manuscript into it and got the proper changes in by the deadline.

The final cut includes contributions by Bill Flanagan, Ann Powers, Dave Marsh, Salman Rushdie and Moby. Nothing from Rolling Stone, NME or Hot Press appears -- "They have their own books." (A shame, especially since few outside Ireland know Hot Press. They've put some of the best insights into U2 into print.) Bordowitz sifted through a couple thousand articles all told while researching the book -- he pulled up the band's name on the Lexis/Nexis database; he spent hours in the researcher heaven that is the Lincoln Center Library for the Performing Arts in New York ("They have articles on [first rock and roll DJ] Alan Freed on original newsprint! It's just astounding what they've got!"). He sought pieces where "the theme of the story was something of more than passing interest"; he also looked for names of writers he knew and admired. Then he hoped to get permission to reprint what he found. One aid in his quest: he has spent the past quarter century writing about music (which, as William S. Burroughs remarked, is like "dancing about architecture" -- the name of Bordowitz's newsletter). He knows folks who used to write for Trouser Press; he used to write for Bill Flanagan. He could talk old friends like Robert Christgau into participating -- even if the publishers offered little to have articles reprinted. When told how much the stipend would be, Christgau told Bordowitz, "How could I turn down 25 smackers?"

Bordowitz knew from the beginning he would not present his material in a straight chronology. Instead, he wished to group articles by theme. "'Spirituality' and 'Politics' [were] a given." He had pieces written by Billy Corgan and Bruce Hornsby; these anchor a section called "Among Peers." Profiles of Paul McGuinness provide glimpses into "The Business of U2" -- a natural topic for the compiler to highlight, as he teaches an Introduction to the Music Business course at Baruch College. He even slipped in a "Rock Hunks" chapter, inspired in part by stints editing teenybopper magazines. "Part of U2's durability undoubtedly comes from their stint as rock poster boys," the first sentence notes, and then clips from ROCK!, Seventeen, and Star Hits bolster the argument. (Star Hits' summation in 1987 of Bono's childhood includes this memorable line: "He also formed a collection of friends who lived in a secret imaginary place called Lypton Village...")

Commentary on U2's music itself does follow rough chronological form. Further discussion appears in chapters "On the Road" and "On the Record," presenting the tours and the albums respectively. Given that U2 made their reputation live, "On the Road" seems abbreviated; The U2 Reader skips both Lovetown and PopMart in this section. Even Zoo TV warrants but a quick blurb about a Paris date. "Would that there were no constraints whilst writing a book," Bordowitz says now. "There were initially articles about each concert [tour]. Some didn't make the cut. Some had to be pulled because of rights issues." He was particularly intrigued by an article all about the lighting at U2 shows, but it was "way too technical. If I hadn't cut it my editor would have."

If the book strikes its readers as lead-singer-centric, Bordowitz says he couldn't help it. "The band seems way too comfortable letting Bono being the mouthpiece." He wanted to find a Larry interview from a magazine like Modern Drummer, but couldn't.

The target audience for The U2 Reader knows that Larry rarely does interviews. The target audience in fact probably has read many of the pieces in this book -- either in the original publications or in an online archive. So what does Bordowitz hope to achieve by selecting 70-odd articles out of the thousands available and putting them into a book?

"I hope [readers] get a fuller picture...I think of U2 as like this crystal and my approach was to shine a light through a couple of facets. I felt...if somebody actually took the time to read the book as a whole, it would give them a well rounded picture -- what they are about and why they are about it. I'm a journalist, I'm out to answer Who, What, Where, When, Why and How."

What are they about, then? Why are they about it?

"Bring it down to the one word: dedication. These guys are dedicated to each other, dedicated to their art. When they get involved in causes they don't do them half-assed. A lot of society could learn a lot from them right now."

Bordowitz also amends his book metaphor, hoping as he does so that everyone understands he regards Dr. Seuss as literature. He mentions that as he looked over articles from the whole 25-year span, he found "surprisingly few contradictions" in how they have presented themselves over time. In their consistency from their early days to the present, "They're like Horton the Elephant -- they meant what they said and they said what they meant. That's certainly more my taste in reading!"

From his educated-outsider stance, he says there still may be worlds left for U2 to conquer. "At this point survival is a noble cause. Like the couple that's been married 25 years -- at their silver wedding anniversary [you say] 'God bless'em.' But there's more to it actually than just hanging in there. There's still having an interesting story to tell. They showed with All That You Can't Leave Behind that they've still got a couple of interesting stories to tell."

After all this studying of U2's career, has Bordowitz come up with any advice he'd like to give to the band?

"I wouldn't even presume! They've befuddled me -- they've confounded me for way too long to even presume to give them advice. I'd sooner take advice from them."

He adopts a heavier New York accent as he imagines what he would say: "Tell me something to do here. I'm all ears, baby!"


© @U2/Pancella, 2003.
---
DEEP IN THE SHED
If you haven't heard from Hank (aside from these newsletters) lately, don't feel too bad. It's nothing personal. Hank's just been spending most of his waking hours in the woodshed preparing his newest creation, 20 Tuning Points of Rock and Roll. The tentative Table of Contents looks like this:
INTRODUCTION: ROCK AND THE VOICE OF POST 1950 YOUTH
Chapter 1 – 1877-1977 Edison Invents The Phonograph: Recorded Music Goes From Science Fiction To Big Business.
Chapter 2 - 1936-37 Robert Johnson makes 41 recordings songs in Texas Hotel Rooms, Offices and Warehouses
Chapter 3 - 1946 - 1955 Les Paul invents the solid body electric guitar, close micing and the multitrack studio.
Chapter 4 - 1952 American Bandstand
Chapter 5 - 1953 Elvis Presley strolls into the Union Street Recording Studios In Memphis
Chapter 6 - 1954 Alan Freed changes the name of his Moondog's House radio show to the Rock and Roll Show
Chapter 7 - 1954 The movie Black Board Jungle comes out.
Chapter 8 – 1955 -1982: From the transistor radio to the cassette to the compact disc
Chapter 9 - 1955 Chuck Berry records Maybellene
Chapter 10 - 1959 Buddy Holly crashes
Chapter 11 - 1963 Beatle Mania
Chapter 12 - 1965 Bob Dylan goes electric at the Newport Folk Festival
Chapter 13 - 1966 Paul Williams Launches Crawdaddy Magazine
Chapter 14 - 1967-69 The Monterrey Pop to Woodstock To Altamont: Innocence Found and Lost
Chapter 15 - 1972 Say Yes to Steely Dan – "Progressive Rock" and the Recording Technology Revolution
Chapter 16 - 1977 The Sex Pistols tour America
Chapter 17 - 1979 MTV Launches
Chapter 18 - 1985 Live Aid
Chapter 19 - 1991 Nirvana hits #1 with Nevermind.
Chapter 20 - 1995 MP3, Napster and the End of the World As We Know It
Quotes:
Bibliography – Turning Points of Rock And Roll
---
COMING ATTRACTION
This spring, Hank is slated to have not one but two books in the stores.
| | |
| --- | --- |
| | In June, Kensington will release The Bruce Springsteen Scrapbook. An oversized book with over 120 pictures and an up-to-date biography of Bruce, including The Rising and the beginning of the latest tour that never ends (although they say they're coming off the road this weekend). |
| | |
| --- | --- |
| Also this spring, Da Capo will be putting out Hank's next reader, Every Little Thing G'wan Be All Right:The Bob Marley Reader. While it's too early to say all of the articles that are going to be in it, it will be a fitting tome on the King of Reggae. | |
---
© 2003 Bordowitz Media Werx