| | | |
| --- | --- | --- |
| | | |
Dancing About Architecture
because "....writing about music is like dancing about architecture." -- William S. Burroughs. August-October 2005
To unsubscribe, click here
---
HI, DANCING PARTNERS
Hi there, it's time to dance again! Yes, it's been a while, and we apologize for not being the most attentive dancing partner, but things have been unbelievably busy at Chez Merde on the Mountain, that place Hank calls both his home an office. Between teaching at Ramapo, vetting a course for Coast learning, writing articles for Cynopsis, Key Media, and others, and most of all working on his Dirty Little Secrets of the Music Business: The Real Reason The Music You Hear Sucks and negotiating several future projects, life has been a little busy. Then our beloved publicist George Dassinger got a story on the book into Page 6 in the NY Post, and suddenly all hell broke loose. In the best possible way.
Hank hasn't been so busy, however, that on Labor Day weekend he couldn't find the time to pick up his guitar and play (just like yesterday) at a party thrown by May Pang. Here he is playing guitar behind the one and only Phoebe Snow with Michael, the drummer from Lynyrd Skynyrd, and Lisa, the bassist from Lez Zeppelin: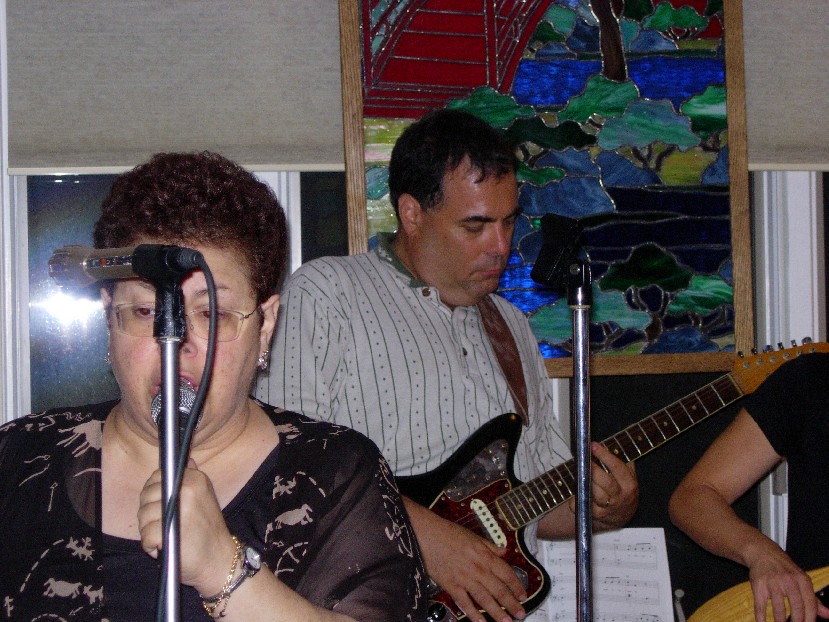 Then, at a birthday party for the illustrious Ms. Pang and Steve, the savant behind the Cutting Room in New York, Hank got the opportunity to work with former Crystal La La Brooks, playing her signature song, "Da Doo Run Run."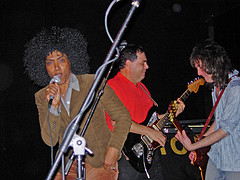 Props to J-mo for organizing the jams. Hank says it was so much fun he might play in public again one of these days.
---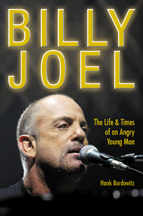 BILLY JOEL: THE LIFE & TIMES OF AN ANGRY YOUNG MAN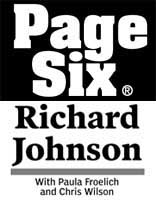 JOEL'S DAYS OF WINE AND POLISH
IT'S well known Billy Joel has a drinking problem, what with the car accidents and his various stints in rehab — but it was so much worse in his early years, says author Hank Bordowitz.

In his new book, "Billy Joel: The Life & Times of an Angry Young Man," Bordowitz details how the Piano Man's early cries for help were even more obvious than driving a car into a house or a tree while intoxicated: He drank furniture polish.

Friend and drummer Jon Small once discovered a comatose Joel passed out in his cedar closet, and rushed him to Long Island's Meadowbrook Hospital. Later, he was transferred to the psych ward and put on suicide watch.

When Joel's then-manager, Irwin Mazur, visited, Joel begged him to get him out, saying, "These people are really [bleeping] crazy," the book reports.

Joel confessed, "I drank furniture polish . . . It looked tastier than bleach." Before he drank it, he penned a suicide note that became the lyrics to "Tomorrow Is Today."

The grim episode was brought on by Joel's despair over his affair with Elizabeth Small, the drummer's wife.

Joel was a permanent houseguest at the Smalls' Dix Hills home — dubbed "Rock House" — where he snuck through a closet in his room to get to hers. His relationship with Elizabeth was "tempestuous," the book details, and keeping it from his friend and drummer was stressful.

But for Joel's music, the relationship was a boon, as he started writing ballads to Elizabeth, who later became his wife, including, "She's Got a Way" and "She's Always a Woman."

Joel's relationship with supermodel Christie Brinkley had its own set of issues. The honeymoon didn't last long between the two, mainly because of Joel's abuses.

Brinkley chided him for hanging out with his old friends all the time. "All they do is smoke dope, and don't think for a minute I don't know what they are passing around in that cigarette case," the book reports the supermodel saying, referring to cocaine.

At least Joel got one thing right. While on a cruise in the Caribbean, Joel was playing the piano for three women who turned out to be Elle Macpherson, Whitney Houston and Brinkley. "Whitney was this annoying 16-year-old model who kept telling me, 'Let me sing,' " the book recounts. "I kept telling her to shut up."
Copyright 2005 NYP Holdings, Inc. All rights reserved.
***********************
Joel: "I drank furniture polish… It looked tastier than bleach."
By: Mihaela Stroia, Entertainment Editor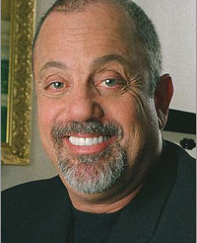 Singer and songwriter Billy Joel tried to commit suicide drinking furniture polish, because of his affair with the wife of his drummer.

Author Hank Bordowitz published a new book entitled, "Billy Joel: The Life & Times of an Angry Young Man", where he claims the singer had battled many years with depression and alcoholism.

In the book, Joel apparently confessed: "I drank furniture polish… It looked tastier than bleach."

Ironic, Joel was saved by the same man he betrayed, his drummer Jon Small, who rushed him to the hospital where he was submitted to a psychiatric ward and put on suicide watch. The singer left a suicidal note, which later became the lyrics to "Tomorrow Is Today".

Joel entered the Betty Ford Center in March of 2005, for treatment of alcohol abuse, after what his publicist called "a recent bout of severe gastrointestinal distress". He checked out of the center in April of 2005.

A friend who saw Joel after he has checked out said that Billy has completely sworn off all alcohol. Joel had been treated previously for alcohol abuse in 2002, when he spent two weeks at Silver Hill Hospital in Connecticut.

***********************

From Monsters and Critics.com

People News
New book documents Joel\'s life
By BANG
Oct 10, 2005, 19:00 GMT

Billy Joel once drank furniture polish in an apparent attempt to kill himself.
In a new book, \'Billy Joel: The Life & Times of an Angry Young Man\', author Hank Bordowitz claims the star one drank furniture polish because it would be easier than swilling down bleach.
The singer - who has had a well-documented battle with alcohol - is quoted as saying: \"I drank furniture polish. It looked tastier than bleach.\"
Before he drank it, Joel reportedly wrote a suicide note that eventually became the lyrics to \'Tomorrow Is Today\'.
Bordowitz details how Joel\'s friend, drummer Jon Small, discovered him passed out in his closet and rushed him to hospital.
Joel - who was once married to supermodel Christie Brinkley - was moved to a psychiatric ward and put on suicide watch.
He later begged his manager to get him out of the ward, pleading: \"These people are really crazy.\"
It\'s claimed the episode was brought on by the star\'s secret affair with Jon Small\'s wife, Elizabeth.
Joel later penned several songs for Elizabeth - who later became his wife - including, \'She\'s Got a Way\' and \'She\'s Always a Woman\'.
Copyright 2005 BANG Media International

© Copyright 2003 - 2005 by monstersandcritics.com.
***********************
Billy Joel Drank Furniture Polish In Suicide Attempt

October 10, 2005 3:01 p.m. EST


Douglas Maher - All Headline News Staff Reporter
New York, NY (AHN) - A new book written by author Hank Bordowitz reveals the lows singer Billy Joel sunk to over the years in a fight with depression and alcoholism.
Joel reportedly drank furniture polish in a suicide attempt.
The new book entitled, "Billy Joel: The Life & Times of an Angry Young Man", quotes the "piano man" as saying, "I drank furniture polish. It looked tastier than bleach."
Joel apparently wrote a suicide note before drinking the polish and was later found passed out in a closet by then drummer and friend Jon Small, who rushed Joel to the hospital where he was admitted to a psychiatric ward and put on suicide watch. Joel then begged his manager to get him out because, "These people are really crazy!" Joel later married model Christy Brinkley and the couple had a daughter Alexa.
The book claims the episode was brought on by the star's secret affair with Jon Small's wife, Elizabeth. Joel later penned several songs for Elizabeth including the hits, "She's Got a Way" and "She's Always a Woman".
Joel is also known for another anti-suicide song entitled, "You're Only Human".
***********************

Billy Joel: The Life & Times Of An Angry Young Man
By Hank Bordowitz
I was amazed that BILLY JOEL: THE LIFE & TIMES OF AN ANGRY YOUNG MAN is only the first published biography of the "piano man", especially someone as prolific and interesting as Billy Joel. Sure, Billy Joel has had to endure a lot of crap from some critics, but you can't deny his talent and longevity at his craft. Joel takes his personal privacy VERY seriously and one of the stumbling blocks that Hank Bordowitz encountered in writing this book was that many of Joel's friends and associates have signed non-disclosure agreements.
Despite the obstacles, Bordowitz delivers an entertaining, fair and balanced tale of Billy Joel - not only covering his often 'tragic' personal life but the most important thing: his music! There is even something for music trivia buffs (like myself): Billy played piano for Shadow Morton's production of two Shangri-Las songs: "Remember (Walkin' in the Sand) and "Leader of the Pack". However, my only critique of the book is that even more time isn't spent on the music - what inspired each song and the recording processes of each album.
Those who enjoyed Billy Joel's appearance on VH1's "Behind the Music" are really going to like this book. While it doesn't quite tell the 'full' story (understandable because of the already discussed reasons), it succeeds in its valiant attempt to decipher a sometimes-puzzling rock star.
Review by Ronnie
***********************

Hank Bordowitz's unauthorized biography of singer Billy Joel is crammed with juicy, often salacious details of Joel's alcohol and drug abuse, his sometimes scandalous sex life, and his often stormy relationships with friends and fellow musicians. Born in the Bronx in 1949, Joel had his first hit with "Piano Man" in 1973, but didn't really hit the big time until 1977, when his album THE STRANGER became a bestseller. Bordowitz's is the first serious attempt at chronicling Joel's rocky road to stardom, and, despite the hindrance of being denied access to the singer and most of his closest friends, he manages to construct a believable and often sympathetic portrait of a driven musician struggling vainly against personal demons. Aided by years of rehab, Joel's present-day persona is somewhat lower-key than the furniture polish-abusing figure of yore--Bordowitz's well-constructed tale captures the essence of the man, as well as chronicling the wreckage he left in his wake.
*****************************
From The Waterloo (Ill) Republic Times
Hank Bordowitz, Billy Joel: The Life & Times of an Angry Young Man (Billboard Books, July 2005, 272 pages)
Having an affair with your best friend's wife is a bad idea.
That's one useful lesson you can learn from Hank Bordowitz's new biography of Billy Joel. Here are some others:
If you pay people to look after your money, try to keep tabs on what they are doing with it.
When you have a series of car crashes and a history of binge drinking, don't go around saying you're not an alcoholic. No one will believe you.
Billy Joel's life features early betrayals that leave their imprint on all the pages that follow. Though many of Joel's wounds seem self-inflicted, he remains a sympathetic character. He comes across as likeable, genuinely humble and a willing servant of music.
Bordowitz never interviews Joel directly, relying instead on interviews with friends and associates, and even those who have every reason to vow revenge paint a mostly favorable picture of the Piano Man.
The best testimony comes from Joel himself in quotes from other journalists' interviews—best not because these quotes are so revealing, but because he has a lyricist's gift for the memorable metaphor.
Here's how he talks about his interest shifting from rock to classical composition: "Classical music was like the girl next door. Very sweet, very nice, but she didn't turn me on…I was kind of seduced by this, rock'n'roll, what I call the flaming redhead with torn fishnet stockings. After thirty-five years of the affair, she didn't look so good anymore…And the girl next door was now a hot babe."
Not every voice in this book is as engaging; some reminiscences are long and rambling, disturbing the flow of the story. And some portions of Joel's life story are less riveting than others. All in all, though, Billy Joel: The Life & Times of an Angry Young Man is rewarding to read—especially if you learn its lessons of What Not To Do.
Angela Pancella
*****************************

Billy Joel : The LIfe & Times of an Angry Young Man
By Hank Bordowitz, Billboard Books, 2005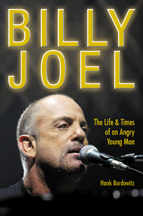 By Evan Gillespie

When I reviewed Chuck Klosterman's Sex, Drugs, and Cocoa Puffs, I took him to task for trying to explain why Billy Joel was cool. The problem I had with the argument was that it suggested that Joel's value (or lack thereof) as a musician lay in what people will think of you if you admit you like him. That perception has been a problem for Joel since his rise to popularity in the 1970s, when he first became, unfairly, positioned as a poster boy for empty hack pop musicians. Even pro-Joel critics like Klosterman have tended to focus on the opposite tack, claiming that Joel is cooler than the anti-Joel contingent will give him credit for, when the real problem is that most critics are forming opinions without actually listening, really listening, to the man's music.
Hank Bordowitz almost addresses this central Billy Joel dilemma in his pedestrian biography of the musician, but he does so superficially. The book isn't exactly a thoughtful critical analysis of Joel's career, and for someone who is indifferent to the piano man, it might be a little difficult to get through. For Billy Joel fans, though, it's one more small validation for the forces of righteousness.
For the most part, Bordowitz sticks to the facts. Joel was born on Long Island in 1949, and his father abandoned the family when Joel was seven, leaving Mrs. Joel alone to raise Billy and his older sister. Young Billy studied classical piano until he got sick of the long hours of practice; he became a teenage rebel, sneaking out at night, drinking wine on the village green, playing in rock bands, and generally being a delinquent. Fortunately, his talent saved the day, and after a few musical false starts he released a solo album, Cold Spring Harbor, that gained the attention of record execs and a few early fans (despite the fact that the record was mastered at the wrong speed, making Joel sound like Alvin the Chipmunk).
A few years later, Joel released a second album that contained the critically reviled "Piano Man," and the song became an instant classic. He followed that up with The Stranger and the equally critically detested "Just the Way You Are," and the album made Joel into a bona fide superstar. During the rest of the 70s and 80s, he was the best-selling male solo artist, and he put his name in the ranks that included Elvis Presley before him and Garth Brooks after.
Bordowitz also includes all the controversies and seedy details, which are many, considering Joel's attempts to make his private life as private as possible. There is the breakup with his first wife/manager and the subsequent installation of that ex-wife's brother as Joel's new manager, an illogical move that resulted in near-bankruptcy when the ex-brother-in-law embezzled millions from Joel's accounts. There is Joel's marriage to model Christie Brinkley, followed by their divorce, after which Brinkley very quickly married, had a baby with and divorced a millionaire playboy with whom she had been cavorting while still married to Joel. Then there is Joel's post-Brinkley struggle with a drinking problem, his retreat from pop song writing and his marriage to a woman just five years older than his daughter, Alexa.
Bordowitz constructs all of this in a workmanlike manner, stringing together facts from previously published articles and interviews, as well as his own interviews with peripheral characters in Joel's life. It's all moderately interesting, but the most compelling thread is Joel's consistent battle for validation in the eyes of critics; Bordowitz talks about it, largely without editorializing, and he misses an opportunity.
Joel, in fact, has been subjected over the years to the easiest and most irresponsible sort of music criticism. Back in the 70s, the elite critics, such as the late Robert Palmer of The New York Times, were champions of punk, postpunk and New Wave. The problem was that those forms were only valid in contrast to something else - punk as music is, let's face it, pretty pathetic - and the critics needed a whipping boy, an anti-punk foil with which to make the New York Dolls seem important. Along came Joel, with his sappy "Just the Way You Are," his classical piano training and his sincerity; Palmer and crew had their man. Pere Ubu is good, they said, because Billy Joel is bad.
Bordowitz points this out, along with the eventual rehabilitation of Joel in the eyes of some critics, without judgment. He doesn't take the critics to task for their unfairness, nor does he take Joel to task for his weakest music ("Just the Way You Are," "My Life," and the entirety of The Bridge album, in this reviewer's opinion). He also doesn't praise Joel for his best work (The Nylon Curtain and River of Dreams, again in my opinion).
The book's biggest flaw, however, is that Bordowitz had no access to Joel himself. He mines published interviews for the musician's thoughts, and Bordowitz's own interviews are mostly with friends and business associates who knew Joel decades ago. Worst of all, he relies heavily on the testimony of Bruce Gentile, a former musician and current sign inspector from Joel's Long Island hometown, who knew Joel only tangentially and who seems to have spent his entire life trying to grab hold of his former neighbor's coattails; Gentile's observations are crude and of dubious veracity, and when Gentile, a former drug addict himself, implies that Joel is a lifelong drug abuser and that his mother is an alcoholic, the whole book takes on the distasteful tinge of trashy tabloid opportunism.
Still, Bordowitz's book is the first extensive biography, authorized or not, of the reclusive Joel, and as such it has value for those curious about Joel's life story. One only hopes that one day, Joel will participate in the writing of an authorized biography, and the real story of a musically significant life will be fully known.
Copyright 2005 Ad Media Inc.
*****************************
We get letters

Dear Hank,

As a life-long Billy Joel fan - albeit one of his younger ones, at twenty-seven - I can honestly say I've been waiting for a book like The Life and Times of an Angry Young Man for The Longest Time! I was a bit concerned from some of the publicity I'd seen that it was going to be a hatchet job, but, as I devoured it within a day of receiving it, I was delighted to discover that that was far from the case. The background info on the albums I know and love so well was fascinating, filling in many frustrating gaps in my knowledge. Also, you demonstrate an affinity for the music that can only come from a real passion for the subject - something that is all too frequently lacking in the trendy, back-biting world of music journalism.
I was very saddened to hear of Doug Stegmeyer's death in 1995. He really was one of my favourite musicians on any instrument - such finesse and elegance on the bass, that added untold character and colour to Billy's recordings. (His work on Debbie Gibson's Anything is Possible album is terrific as well - especially on 'Sure' and 'This So-Called Miracle', two of her best songs). The celebrated live take of 'Say Goodbye to Hollywood' from Songs in the Attic will always have an extra poignancy for me, from now on.
Anyway, I shall detain you no longer. Just wanted to say good job, and many thanks. Keep up the good work!
Alexander Marshall,
East Sussex, UK


---

THE U2 READER: A QUARTER CENTURY OF COMMENTARY, CRITICISM AND REVIEWS
Hank's books are being cited as sources all over. The latest comes from the excellent U2 fan cite, Interference.com : U2 Articles. You can
click on the link below for the full story.

The Story of U2's 'Boy'*


By Teresa Rivas
2005.08


"I hope the young kids will like it as well, but I'm really talking to the people who grew up with me. I'm saying here I am now. How are you? How's your relationship going? Did you get through it all? Wasn't the '70s a drag? You know, well here we are. Let's make the '80s good because it's still up to us to make what we can of it."
-John Lennon, in an interview with the Christian Science Monitor about his new album with Yoko Ono, just days before his assassination on December 8, 1980

"The name U2 is ambiguous, it's in between…like the tightrope that we're all treading."
-Bono in a 1980 Island Records biography

1980. The 70s are over, along with disco, gas shortages and bellbottoms. A new decade dawns, one that will be characterized in retrospect by yuppies and Wall Street, acid wash jeans and awakening to the AIDS epidemic. But not just yet. This year is just the beginning of a new era, before the history and the stereotypes set in, when U2 recorded its first full-length album, "Boy." It's before the hoards of screaming fans and the worldwide acclaim. It's the band's first audition tape in its bid to be the greatest band in the world....


On March 20 of that year, The Evening Press announced that "four Dublin schoolboys" carried off the top prize of £500 at the Limerick Civic Week Pop '78 Competition. In the audience was a CBS representative who would give the band studio time. The brief article names Adam, who said that U2 came to the concert as a "last resort" because no one in Dublin was interested in the group, as the group's leader. It also quotes an ever-optimistic Paul Hewson as saying after progressing from playing "country music to 'doing our own stuff,'" that the cash prize will help the band a great deal financially, providing new equipment. "Now we hope to be able to buy a van," he said, according to Hank Bordowitz's "The U2 Reader."
---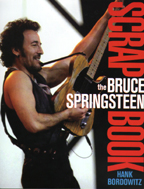 The Bruce Springsteen Scrapbook

Vintage photos of Bruce Springsteen and important places in his life are featured in The Bruce Springsteen Scrapbook, a newly published book from journalist and author Hank Bordowitz. The 174-page Scrapbook includes both famous and rare pictures, while Bordowitz himself took many of the shots in New Jersey towns such Rumson and Asbury Park, and of Springsteen's childhood home in Freehold. The biographical text comes from dozens of articles about and interviews with Springsteen throughout his career.
Bordowitz is also the author of Bad Moon Rising: The Unauthorized History Of Creedence Clearwater Revival, and he edited The U2 Reader: A Quarter Century Of Commentary, Criticism And Reviews. He has two more collections scheduled for publication this year, Every Little Thing Gonna Be Alright: The Bob Marley Reader, and Noise Of The World: Non-Western Artists In Their Own Words.
---

BAD MOON RISING: THE UNAUTHORIZED HISTORY OF CREEDENCE CLEARWATER REVIVAL
Has anyone else noticed the flying pigs? Or how about gotten messages from Hell to send sweaters as it was freezing over? Well, it's all because the unthinkable has happened in the CCR camp -- John Fogerty has resigned with Fantasy Records.
With any luck, by this time next year Hank will be including that and all the other CCR stuff that has happened since Bad Moon Rising came out in 1998 in a new, improved, updated second edition. Stay tuned!
---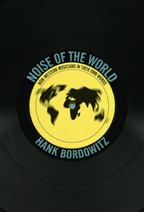 NOISE OF THE WORLD: NON-WESTERN ARTISTS IN THEIR OWN WORDS

The full text of Noise of the World is available to sample on Google. Just sent your browser

here:

*****************
Noise of the World: Non-Western in Their Own Words

---

by Hank Bordowitz

Soft Skull Press
Noise of the World captures the world music scene through the musicians who create it, all in their own words. Esteemed music critic and biographer Hank Bordowitz' s Noise of the World combines the comprehensiveness of the Rough Guides to World Music with the first-person perspective of the artists themselves, whose music is typically discussed by Western critics and ethnomusicologists. Noise of the World is the First book to give the artists the opportunity to speak about their music directly to their listeners.

Based on original interviews conducted over the last twenty years, Noise of the World spans the contributions of artists such as Nigeria's Fela Anikulapo Kuti and Winston "Burning Spear" Rodney. The book also features artists such as the Gipsy Kings, Hugh Masakela and Miriam Makeba, whose music has become a part of the mainstream, while managing to stay true to its roots. These open and honest self-portraits will give music fans a greater appreciation of what is behind these sounds and the suffering the artist have endured and triumphs they have enjoyed. This book is a top-of-the-line entrance into the minds of World musicians.
---
OTHER STUFF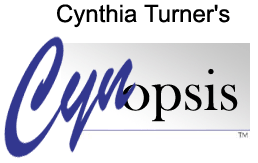 Hank's article on place shifting TV ran in Cynthia Turner's Cynopsis Weekender not long ago:
Place Shifting Technology Brings TV to You (Wherever You Are)
By Hank Bordowitz

Not long ago, futurists postulated television would become the center of home media. With TiVO and even more sophisticated computers running high-end home entertainment systems, that prediction looks like a done deal.
But wait. Who has time to sit in the living room and watch TV? These days, TVs proliferate in minivans and SUVs. Pocket-sized TiVO-like devices with portable view screens allow early adaptors to catch up with the TV they miss while commuting or during lunch. They range in price from about $150 for one with about 50 Meg of memory to $500 for one with 100 Gigs.
Another piece of drool-worthy space-shifting technology called the Slingbox attaches to your TV and high speed internet connection, turning your computer into a remote viewing and recording device. A high visibility item since winning the Consumer Electronics Show Innovations Design and Engineering award for Online/Internet products, the Slingbox hit the market in June. "Within the first week of launching," says Brian Jaquet, Director/Public Relations. "We sold out."
All this leads to several questions. With everyone watching TV everywhere, just how accurate are the ratings? Could these new devices skew the ratings? Or does Nielsen already account for them?
"Could we do that now?" Nielsen's Director/Marketing and Communications Matt Tatham asks rhetorically. "Probably not, but the penetration on the Slingbox is not that great yet, I'd imagine. Will we be able to in the future? Absolutely. We're definitely tapping into the digital future of television watching. That's the next generation."
Significantly, Sling Media won't disclose the product's "penetration." Still, Nielsen claims to be on top of this technology.
"Nielsen Media Research has invested more than $200 million in research and development to [deal with] the changing technology and media landscape, including a variety of technologies that would measure place-shifted viewing," says Tatham. No timetable has been set, but devices like the Slingbox are certainly on our dance card."
Now if only they could figure out how to account for a room full of freshmen watching MTV.
--Hank Bordowitz, adjunct instructor in Communications arts at Ramapo College is the author of seven books about pop music, but we try not to hold that against him. His current work is Dirty Little Secrets of the Music Business: The Real Reason The Music You Hear Sucks.

http://www.cynopsis.com/view_cynopsis_text.cfm?ID=1697
********************

New online course: Introduction to Jazz
The Department of Music, Theatre, and Dance and Continuing Education offer students a new course, available at CSU for the first time this spring:
MU 180, Introduction to Jazz.
Jazz history is made up of many threads connecting events and influences that are important to how jazz evolved. This course allows students with no previous musical experience to explore the history of jazz through reading, listening, writing assignments, concert attendance, and research.
Topics covered include the historical periods of jazz, biographies of jazz greats, as well as instrumental legacies, oral and literate traditions, and jazz as an art form. Stylistic periods in music span from the early beginnings of jazz into the twenty-first century. A three-CD set with jazz classics is included in the course materials.
The teacher is Hank Bordowitz, a national music reviewer and an author of numerous books and publications about modern music and its major figures. His books include:
- Bad Moon Rising: The Unauthorized History of Creedence Clearwater Revival.
- The U2 Reader.
- The Bruce Springsteen Scrapbook.
- Billy Joel: The Life & Times of an Angry Young Man
Enroll through Continuing Education: http://www.learn.colostate.edu.
(Tuition is separate from campus tuition payments.)
********************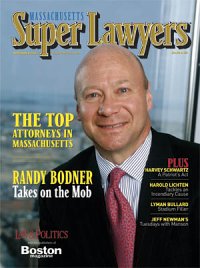 Those of you who have seen the movie "Ray" are familiar with the portion of the film wherein Ray Charles dodges the bullet of going to Lexington Federal Penitentiary for five years after getting arrested for heroin possession. Hank just wrote the story of the lawyers that kept Ray out of prison for the November issue of Massachusetts Super Lawyers.
*******************************

Hank wrote the liner notes and consulted on the A&R for The Essential Ravi Shankar, just out on Sony/Legacy:
http://music.barnesandnoble.com/search/product.asp?userid=ZYw1jcVIja&EAN=828767161020&ITM=3
*******************************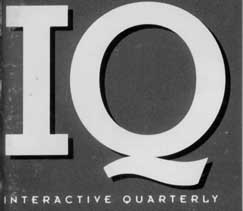 The legend returns! This, of course, being the old (dare we say legendary?) logo/masthead. Ten years ago, Interactive Quarterly broke ground by treating adult entertainment as popular culture, with Hank at the helm as editor. It was published for a little over a year, turning into a CD-Rom digizine and then other things took up the time and interest of everyone involved and the publisher put it on hiatus. Several months ago, Hank got a call from the publisher asking if he felt like starting it up again. While Hank's plate is pretty full, this was always fun and exciting stuff. Some of the assignments have already been made for the first issue, coming out sometime early this spring.
*******************************

The Glory that is grease: Read Hank's article on falafel in Global Rhythm:
http://www.globalrhythm.net/Food/TheJoysofFalafel.cfm
*******************************

Once again, Hank is teaching his Marketing and Management in the Music Business course at Ramapo College of New Jersey. He's also hard at work putting together an online course on Music On-line for the winter session. The MMMB course is loaded with some very talented and intelligent students. Anyone with an internship available could do a lot worse than to drop Hank a line.
---
That's it for now. Thanks for reading and thanks for dancing!
Hank
---
© 2005 Bordowitz Media Werx