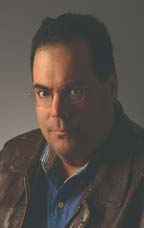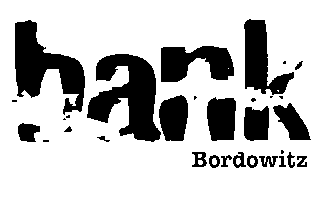 's
Dancing About Architecture
because "....writing about music is like dancing about architecture." -- William S. Burroughs. January/February 2004
---
HI, DANCING PARTNERS
Hank was pleased (and a little embarrassed) that people have asked whether they were dropped from the list for some reason when they didn't receive their January issue of DAA. The reason was simple. There was none. Thus this ganged up, super-sized, duo month, late issue. The (secular) New Year (that's for Bob) has been nothing if not frenetic.
First off, there's just life. Between shoveling yards deep snow (cumulative) along with a recalcitrant car that spent two weeks in and out of the shop, various and sundry school functions and the ultimate insanity, a Boy Scout overnight on the coldest weekend of the year, things have been hopping personally.
Ah, but professionally, as you will read, things have also been ... interesting.
---

EVERY LITTLE THING GONNA BE ALRIGHT: THE BOB MARLEY READER
Much of the month of January was spent on the phone doing the literary version of "The Good, The Bad and The Ugly," that being negating the rights to reprint the articles that will appear in Every Little Thing Gonna Be Alright: The Bob Marley Reader, now rescheduled from a May release to a more semi-realistic street date in July.
The Good was manifold and manifest: Hank got to finally make contact with wonderful people like Roger Steffens, Lee Jaffe, Stephan Davis, Patrick Carr, writers he's read and admired for most of his career, and some even longer. Most of these people were more than helpful and generous with their time -- Lee and Stephan actually re-edited the pieces as they had been scanned or downloaded or retyped..
The Bad included the disappointment of not getting rights to some pieces that Hank really wanted in there. The less said about this, the better.
The Ugly is the process itself, a long, tedious, arduous task that involves not only the actual negotiations, but detective work tracking down who actually is empowered to give the rights. Hank didn't have to do this for The U2 Reader. Once the person or organization that owns the work is found, then the contact has to be made, the offer and counteroffer. Of course Hank's urgency for this bit of business to get done is always greater than that of the seller. Some kept hank waiting for months, despite pleasant, persistent (and hopefully not annoying) phone calls and emails reminding them that deadline loomed. There seem to be two basic philosophies among writers when it comes to republication of their work: some seemed actually honored that I would use their work in this context, and looked at the admitted pittance I was offering for the rights as found money and good promotion. Some felt that their work was worth far more than I was willing to pay for it. So, Hank had a Pulitzer Prize winner asking half of what various writer's heirs and representatives sought.
The book reads pretty damn well anyway. Another thing to file under The Good.
---
NOISE OF THE WORLD
First week of February, Noise of the World finally found it's way to Soft Skull Press. The submitted manuscript features 68 non-western musicians telling their stories in their own words, including stars like Youssou Ndour, Sunny Ade, Jimmy Cliff and members of the Gipsy Kings and Ladysmilth Black Mambazo, as well as the late, lamented Ofra Haza, Fela Anikulapu Kuti and West Nkosi. Hank's agent thinks it's gonna be a monster (you read it here first).
---
THE BRUCE SPRINGSTEEN SCRAPBOOK
Yet another project was going through the brilliant proofs to the Bruce Springsteen Scrapbook. The production department at Citadel Books has gone above and beyond on this one. It is a thing of beauty. Here's a sample page: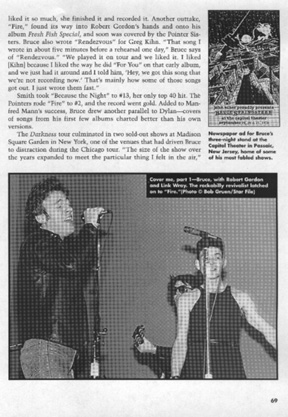 ---
BILLY JOEL
Work has begun in earnest on Angry Young Man, the first serious biography of Billy Joel. Interviews are being done, contacts made and reached. Big ups to Todd Everett for all his help.
---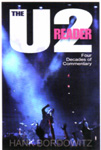 THE U2 READER OUT NOW
The reviews keep coming:
===================================================================

Fall Book Recommendations




Author: Chad Bowar
Published on: September 27, 2003

The U2 Reader: A Quarter Century of Commentary, Criticism and Reviews by Hank Bordowitz

U2 are the best band of their generation, and many books have already been written about them and their career. The U2 Reader takes a different approach. It collects previous articles, interviews, commentaries, discographies and reviews into one volume. It starts at the very beginning of their career and goes through All That You Can't Leave Behind.

It's a diverse mixture of complete unknown writers, musicians like Billy Corgan, Bruce Hornsby and Moby, and legendary music writers such as Robert Christgau, Anthony DeCurtis and Dave Marsh.

It's the diversity of viewpoints that make The U2 Reader so compelling. It's always interesting to look back on a band's career and read what the critics were saying at the time compared to what the current viewpoint is. My only complaint is that the book is less than 300 pages long. With so much material available to choose from, I wish they could have made it a bit longer. I guess I'll just have to wait for part 2.

http://www.suite101.com/article.cfm/3985/103649

===================================================================

... Also digging deep is Hal Leonard's publication of The U2 Reader: A Quarter Century of Commentary, Criticism and Reviews, compiled and edited by Hank Bordowitz, a lifelong fan after first seeing the band live in 1980. The 300-page book pulls from magazines like Playboy, Trouser Press, Musician and The Nation to tell the history of the band, with contributors like Salman Rushdie, Billy Corgan, Moby, Dave Marsh, Elizabeth Wurtzel and Robert Christgau. Highlights include Bono's Class Day Speech at Harvard, various musings from salon.com and interviews with the band's manager, Paul McGuinness.
http://www.citybeat.com/2003-07-02/musicyeah.shtml
===================================================================

Ireland's other lasting contribution to the evolution of rock, U2, is chronicled in The U2 Reader (Hal Leonard). Music writer Hank Bordowitz, the collection's editor, makes no bones: to him they are "the greatest band in the world." Former Crawdaddy editor John Swanson is more focused when he contends, in the book's foreword, that U2 was "the last of the great rock bands," a reminder in our redundant era of a band who could arrest widespread attention with a unique blend of '70s punk energy and '60s rock vision. Roaring like a jet plane trailing mystical anthems, U2 transcended the cliches that had already accumulated around rock 'n' roll by the time of their 1980 debut album.
The U2 Reader collects frontline reports on the band's progress from the press, beginning with a 1978 notice in a Dublin daily and concluding with a 2002 article in Advertising Age commending them on their marketing savvy. A 1980 Melody Maker profile comments on the band's maturity, integrity and ambition--this was before the release of their first LP! A Trouser Press interviewer in 1981 wrestled with the problem of how to classify U2's music. Bono suggested "cinema sound, really textured and big, like a huge screen in a cinema."
No one has ever been able to top that description of U2.
--Dave Luhrssen
http://www.shepherd-express.com/shepherd/24/42/night_and_day/in_review.html
---
BAD MOON RISING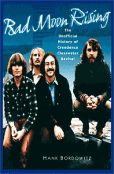 The first review we've found of the English (UK) edition

Bad Moon Rising, Hank Bordowitz
Schirmer Books £16.95
What links Kristin Scott Thomas, Ralph Fiennes and Creedence Clearwater Revival?
The answer is the English Patient, produced by the film branch of Fantasy Records, a business founded on CCR's earnings in 1969/70, when they outsold pretty well every rock band except the Beatles in every corner of the globe.
And then they vanished. After 1972's substandard Mardi Gras album, there were no reunions, no re-formations, and no releases of rare material. Nothing. In an age when every rock band that ever had a hit has reformed to profitably milk the concert and CD circuit, CCR's silence is baffling.
The problem is that leader/ singer/ guitarist/ writer John Fogerty has spent 29 years immersed in vituperative legal disputes with Fantasy and the band's other three members. At one point Fantasy sued him for plagiarising himself, and he released an insulting song about label boss Saul Zaentz.
In this time Fogerty has released just five solo albums. The others drifted off to bands few ever heard. Relations between them and Fogerty are so poisonous that he even rejected a personal invitation from Bill Clinton to reform CCR to play his presidential inauguration.
Yet the music has never stopped selling. Creedence mined a vein inspired by 1950s rock and blues. They sounded deeply southern but were working class kids from the wrong side of San Francisco Bay.
'Fortunate Son', Fogerty's furious assault on the rich people who sent his neighbours to fight in Vietnam while they stayed at home, must be one of the hardest-hitting political rock songs ever. CCR's disappearance offers some lessons on the problems of clashing egos and unexpected wealth.
Mark Smulian

http://www.liberator.org.uk/archive/2002/280/280%20reviews.htm
===================================================================

Bad Moon Rising : The Unauthorized History of Creedence Clearwater Revival
by Hank Bordowitz [11/98, reprint 12/01]
"This book gives a badly needed history of one of the greatest bands of the modern rock n roll era, Creedence Clearwater Revival. Although the book is somewhat slanted against John Fogerty, it gives some accurate interviews behind the scenes of a fine band that unfortunately broke up before it had to. Very often rock bands do not last as egos are very fragile and there is so much pressure to keep on performing. This is fully detailed in this biography. This is a good choice for those who want to understand what happened behind the scenes of Creedence Clearwater Revival."
"This book gives a very good account of the history of one of America's greatest rock n roll bands. The story really unfolded itself AFTER the band broke up. Its so sad that with so many rock n roll bands having reunions years after breaking up, this will never happen with the surviving members of this band. It would be nice to hear more from John's point of view as the book somewhat sides with Stu and Doug. Whereas Stu and Doug were a very talented rhythm section, how often has one heard original material from these guys? John Fogerty has proven with his solo releases that he was the straw that stirred the Creedence Drink. Just try to overcome the slight bias against John and you will find this book very informative."
http://www.bomp.com/BompbooksSanFran.html
===================================================================
Jocks' Journal is an Australian Radio Prep service (You think DJs come up with that stuff on their own?). Hank found this on their web site:
Jocks' Journal © Published by Newmedia
- Thursday 31 October 2002
Page 3
Musical Notes October 2002
Creedence Clearwater Revival Trivia
Trivia taken from the book:Bad Moon Rising: The Unofficial History of Creedence Clearwater Revival written by Hank Bordowitz.(Omnibus Press. 358 pages)
· John and Tom Fogerty's first guitar was an electric guitar which they rented for $5 a month.
· John's first paid-for guitar was a Danelectro Silvertone which cost $80 and was paid for by doing his newspaper rounds.
· CCR began as the Blue Velvets and began playing together in late 1959. A typical Blue Velvets repertoire would include instrumentals of Duane Eddy, The Ventures, Johnny & The Hurricanes and hit songs including Louie Louie and Midnight Hour.
· Tom Fogerty began his music career by playing the violin for 4 years, then he switched to the accordion, then to the trumpet - and finally the guitar. Before joining his brother in the Blue Velvets he fronted his own band, Spider Webb & The Insects.
· Creedence was the first band to sign on for Woodstock. They went on stage following the Grateful Dead at about 3o'clock Sunday morning. The group didn't allow the producers of the Woodstock film to include them in the movie because they didn't feel their performance was one of their best efforts and also Fogerty thought it would be bad for their career.
· Drummer Doug Clifford's wife Laurie did the cover art for CCR's first album.
· John Fogerty says the CCR album title Willie & The Poorboys was vaguely inspired by Winnie The Pooh. After playing around with 'Winnie the Pooh', he came up with 'Willie & The Poorboys'.
· The word "love" apparently doesn't appear in any CCR hit written by John Fogerty.
· Cosmo's Factory was their bestselling album. 'Cosmo' was the nickname of drummer Doug Clifford. In his early college days he was referred to as Clifford C Clifford - the 'C' was for 'Cosmo'.
· Bass player Stu Cook was one of the bass players who auditioned to replace Bill Wyman in the Rolling Stones.
· CCR broke up in July 1972. It was officially announced in the press in October 1972. They played together for the final time in October 1980 at Tom Fogerty's wedding. They played for nearly an hour and even performed some tunes from their days as the Blue Velvets.
· Mardi Gras was their final album. At that stage the group was a trio. John's brother Tom had left. This was the first and only CCR album not to feature the group on the cover.
· The Blue Velvets changed their name to The Visions and then in 1964 the owner of Fantasy Records changed their name to The Golliwogs because he thought it sounded sort of British and in that year British groups were dominating the music charts. They were also made to wear white Afro wigs and Sonny & Cher-type sheep skin vests.
· In their early days John and Tom Fogerty wrote songs under pseudonyms such as Rann Wild, Toby Green and T Spicebush Swallowtail!
· The Golliwogs best selling single was Brown Eyed Girl (not the Van Morrison song)which sold better than 15,000 copies.
· Creedence Clearwater Revival got their first name from a friend called Credence Nuball. They added an extra 'e' to the name to create "creedence" -like a "creed", something to believe in. Clearwater initially came from an ad for Olympia Beer, made from "cool, clear water.". They first used the name on Christmas eve 1967. Other names they tossed around included: Deep Bottle Blue, Muddy Rabbit and Gossamer Wump.
· The only Tom Fogerty song to feature on a CCR album was Walk On The Water - a song they used to play as The Golliwogs. It was on their first album.
· Proud Mary's lyrics were originally about a maid in a household of rich people - the song eventually became a song about a riverboat. Part of that inspiration came when John and Stu were watching Maverick on TV and the program featured a scene with a Mississippi River gambling boat. The rest of the group thought the song would sound better if they joined John on the "rolling on the river" chorus. John disagreed and only recorded his vocal.
Now you don't have to read the book!
---
THE PEANUTS ILLUSTRATED SONGBOOK

While the bulk of the book is music by Vince Guaraldi and art by Charles Schulz, Hank did write a pretty fair honking essay in the beginning. In a recent Google search, this review of the book that we'd never seen before popped up:
The best one, however, is The Peanuts Illustrated Songbook (#00313178, $19.95), an absolutely gorgeous 120-page book that'll appeal both to budding pianists and plain ol' fans of Vince Guaraldi, who have no intention of setting finger to keyboard. It contains a whopping 30 songs, including several -- among them "Frieda," "Surfin' Snoopy" and the main theme to the Thanksgiving special -- that haven't been released prior to this point. The arrangements are medium-level, and certainly "dense" enough to sound reasonably true to the recorded originals. Better yet, the front of the book has an impressive 20-page introduction, by Hank Bordowitz, that talks about Guaraldi and his career, both in terms of his Peanuts work and also his mainstream jazz efforts. George Winston and Vince's son, Dave, are quoted in this introduction, which also includes quite a few old photos of Vince at work and play ... along with plenty of full-color Peanuts line art. Information about Guaraldi is even more scarce than his sheet music (and I should know, since I've contributed a great deal of what little exists), and so this volume is very welcome.

http://www.peanutscollectorclub.com/vincemuz.html
---
TURNING POINTS OF ROCK AND ROLL
Still more time was spent going through the edited manuscript of Turning Points of Rock and Roll. This book is the flagship of a new series of "Turning Points" books by Citadel (the next one is going to be Turning Points In Cinema), and it may well be the best and most controversial thing Hank has ever written. Guaranteed to inspire flame wars, arguments, letterbombs, brickbats and debates, as Hank has already had a few about the twenty events he chose. The joys of subjective subject matter. Here is the table of contents:
Forward – By Dave Marsh
INTRODUCTION: ROCK AND THE VOICE OF POST 1950 YOUTH
Chapter 1 – 1877-1977 Edison Invents The Phonograph: Recorded Music Goes From Science Fiction To Big Business
Chapter 2 - 1936-37 Robert Johnson makes 41 recordings in Texas Hotel Rooms, Offices and Warehouses
Chapter 3 - 1946 - 1955 Les Paul invents the solid body electric guitar, close micing, the multitrack studio and a bunch of other stuff.
Chapter 4 - 1952 American Bandstand
Chapter 5 - 1953 Elvis Presley strolls into the Union Street Recording Studios In Memphis
Chapter 6 - 1954 Alan Freed changes the name of his Moondog's House radio show to the Rock and Roll Show
Chapter 7 - 1954 The movie Black Board Jungle comes out
Chapter 8 – 1955 -1982: From the transistor radio to the cassette to the compact disc
Chapter 9 - 1955 Chuck Berry records Maybellene
Chapter 10 - 1959 Buddy Holly crashes
Chapter 11 - 1963 Beatle Mania
Chapter 12 - 1965 Bob Dylan goes electric at the Newport Folk Festival
Chapter 13 - 1966 Paul Williams Launches Crawdaddy Magazine
Chapter 14 – 1966 – Ahmet Ertegun signs Cream: Rock 'n' Roll Becomes Rock
Chapter 15 - 1967-69 The Monterey Pop to Woodstock To Altamont: Innocence Found and Lost
Chapter 16 - 1977 The Sex Pistols tour America
Chapter 17 - 1981 MTV Launches
Chapter 18 - 1985 Live Aid
Chapter 19 - 1991 Nirvana hits #1 with Nevermind
Chapter 20 - 1995 MP3, Napster and the End of the World As We Know It
AFTERWORD:
Quotes:
---
THE NEWS FROM BIZARRO WORLD
This actually can be found on the Palm Pilot web site:
I'm an author. When my most recent book, the U2 Reader (Hal Leonard) was in the editing stages, I got a call from my editor telling me that I had to cut the book by about a third over the weekend. Unfortunately, I had already committed myself to spending the weekend in the woods with my 11 year old and his scout troop. So, I downloaded the entire book into Quickword, synched up my palm and brought it with me into the woods. I was able to get the job done during down time and at night over the course of the weekend and uploaded to my editor before the start of business on Monday.


Hank Bordowitz
Suffern, NY

http://www.palmone.com/us/community/stories/hbordowitz.html
===================================================================
And Hank made the local papers, not as a writer, but as vampire bait.
Blood drive
By DAVE GOLDBERG
SPECIAL TO THE JOURNAL NEWS
(Original publication: January 26, 2004)
SUFFERN — Rebecca Lynch confessed to being a little nervous.
But her sense of duty, along with her mother's persistent prodding, helped her overcome her fear and she showed up yesterday ready to give blood at the Reform Temple of Suffern's annual blood drive.
"There are people who really need my blood," said Lynch, a Suffern resident and floral designer. "If you have it to give, why not?"
Despite the intimidating assortment of blood drive equipment spread throughout the room — stretchers, plastic packets waiting to be filled with pints of blood and of course, the needles — the atmosphere inside the temple was welcoming.
With the mellow strains of the cellist Yo-Yo Ma playing on the sound system, the smell of freshly brewed coffee in the air, an assortment of bagels in a basket and the Sunday papers on a table, the temple's conference room was transformed into a sort of blood-bank cafe.
More than 50 people, mostly temple members, came to give blood.
"It's great," said David Karlin, organizer of this year's drive, who was appropriately dressed in a bright red sweater. "The temple's response has been great and, in fact, that is one of the reasons I joined here. The temple has a proven track record of community outreach."
Karlin also attributed the drive's success to the efforts of the Hudson Valley Blood Bank.
"It's really not a hard thing to do," said Karlin. "The blood bank people give you everything — the signs, the coffee. We get donations for the bagels."
However, there was not much of a wait, Herb Messinger, of Suffern, said. He was impressed with the whole operation.
"They have it so laid out, it really makes it pleasant," the retiree said. "They scheduled it so you have an appointment, so the wait was much shorter. It took 50 minutes between coming in and getting up" off the donor table.
Leonard Birdsall, donor specialist from the Hudson Valley Blood Bank, was grateful that things were running smoothly. The region is suffering from a serious blood shortage, and the blood banks need every drop they can get, he said.
"The supply is down by 50 percent due to new restrictions on 'Euro-blood,'" said Birdsall. A portion of the blood bank's supply had come from Europe, but 2002 restrictions halted that source. In an effort to safeguard against blood from Creutzfeldt-Jakob disease, the human form of "mad cow" disease, anyone who spent a total of three months anywhere in the United Kingdom between 1980 and 1996 is now disqualified from giving blood.
Other restrictions against those who may have been exposed to the West Nile virus or SARS have further limited the pool of potential donors, he said.
"It may get to the point where they will not have elective surgery," said Birdsall.
While most of the blood donors yesterday were aware of the blood shortage, many of them said that giving blood was something they do at least once every year.
Michelle Erich, a Suffern resident who teaches English and theater arts in the Bronx, likened it to a civic duty.
"I think it's everybody's obligation," she said. "I think it's very important, especially if you're healthy. Everyone who is capable should do it."
Hank Bordowitz of Suffern estimated he gives blood about five times a year. "I'm a frequent bleeder," he said. "I get a call and my wife tells me, 'The vampires are on the phone.' "
Bordowitz was sitting down at the table, recuperating with fellow donors and temple members Herb Cooper and Alan Sagat. They were drinking orange juice and coffee and waiting for their children to finish Sunday school.
"It's nice because you know everyone here," said Bordowitz. "This is the 'Cheers' of blood drives."
http://www.nyjournalnews.com/newsroom/012604/b0126bloodrock.html
---
© 2004 Bordowitz Media Werx